010 Editor is a flexible software that combines text and hex editing capabilities. It can handle various file types, drives, and processes. With Binary Templates technology, parsing binary files becomes effortless. The software also provides advanced analysis and editing features for a comprehensive experience.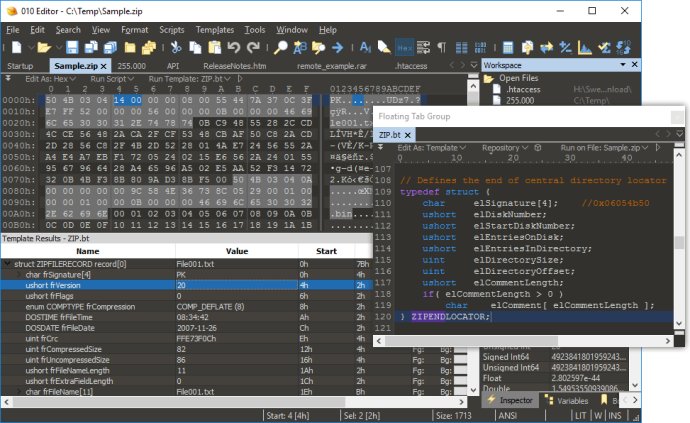 Review: 010 Editor - The Ultimate Text and Hex Editor

If you're in search of a reliable text and hex editor, look no further than 010 Editor. This software provides an extensive range of options to cater to all your editing needs. With its sleek and professional design, you can effortlessly edit any file, drive, or process on your machine.

One standout feature of 010 Editor is its innovative Binary Templates technology. This unique feature allows you to parse a binary file into a data structure that is easily comprehensible. Gone are the days of struggling to make sense of complex binary files - with 010 Editor, understanding them is a breeze.

The user-friendly editor in 010 Editor offers essential commands like cut, copy, and paste, ensuring a seamless editing experience. It also supports huge files and provides unlimited undo and redo capabilities for all editing operations, ensuring you can work with confidence.

One of the most convenient features of 010 Editor is its inspector function. With this feature, editing data in various formats becomes effortless. Whether it's finding and replacing specific data, performing binary comparisons, generating histograms, calculating check sums, or even converting between ASCII, EBCDIC, and UNICODE formats - 010 Editor has you covered.

Additionally, this powerful software comes equipped with a wide array of editing and analysis tools. These tools include finding and replacing text in multiple files simultaneously, importing and exporting data, highlighting important sections, creating bookmarks for easy navigation, and even printing documents. This comprehensive feature set ensures that all your editing and analysis needs are met.

010 Editor goes beyond being just an editor - it also includes an integrated expression calculator. This calculator uses C syntax, allowing for quick and efficient calculations. Furthermore, the software supports running automated tasks using scripts. With the ability to write and execute scripts, you can automate a wide range of tasks effortlessly, saving you valuable time and effort.

Finally, 010 Editor offers an online repository of templates and scripts that are readily available for download. This extensive library further enhances the software's capabilities and ensures that you have all the resources you need to excel in text and hex file editing.

In conclusion, 010 Editor is the ultimate software for editing text and hex files. With its user-friendly interface, powerful features, and extensive range of editing and analysis tools, it surpasses all expectations. Whether you're a beginner or an experienced user, 010 Editor has everything you need to handle your editing tasks with ease.
What's New
Version 14.0: Updated caret, new Template Results, template styles, struct outlining, custom application scale factor, and auto-indent
Version 13.0: Projects and Workspaces, tear-off tabs, Goto Definition, middle-click scrolling, merging, m68k disassembler.