The Advance Access Password Recovery software is a top-rated tool for recovering lost or forgotten Access password. It offers an excellent solution that helps users retrieve their Access password quickly and easily.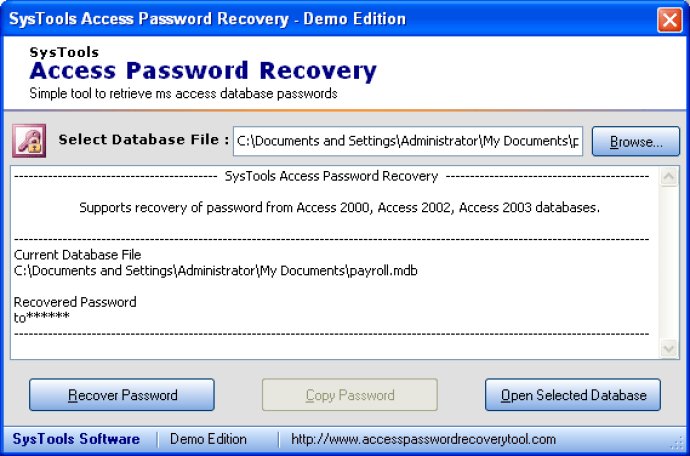 Are you facing a problem with your Access database due to a virus attack? Look no further, the Access Password Recovery Professional Tool can repair your access password within a minute and retrieve the original access database. This advance access password recovery program is the perfect solution for forgotten or lost access database password.

The online Access Password Recovery Tool has some remarkable product features, such as recovering MDB password, being easy to use, and safe to install. The software is free from viruses, trojans, spyware or any adware, and supports all versions of MS Access (2007/2003/2002/2000/97) for password recovery. Access Password Recovery Professional utility is an advanced Access Password Recovery solution which supports the recovery of user-level passwords stored in workgroup information files (*.MDW).

With the Access Password Recovery Professional software, users can directly open the Access database by entering the recovered password. The software is compatible with Windows 2000/XP/2003/Vista, making it highly user-friendly. By using the advance Access password recovery utility, one can unlock or recover Access passwords and retrieve the lost and forgotten access database password.

Interested users can download the demo version of the advanced Access password recovery software for free. This version shows the two characters of your password, allowing you to evaluate the software's capabilities. After trialing the software, if the product satisfies your software features, you can buy the full version of the Access Password Recovery software through our safe and secure payment gateway by paying only $19. The Access Password Recovery Professional Tool is highly recommended for all levels of MS Access users who need reliable password recovery software.
What's New
Version 5.2: Now updated version of Access password recovery tool have include some advance features