ACDSee Photo Manager 2009 allows users to effortlessly manage their memories by offering quick photo viewing, instant flaw fixing options, and easy sharing through email, print, and online albums.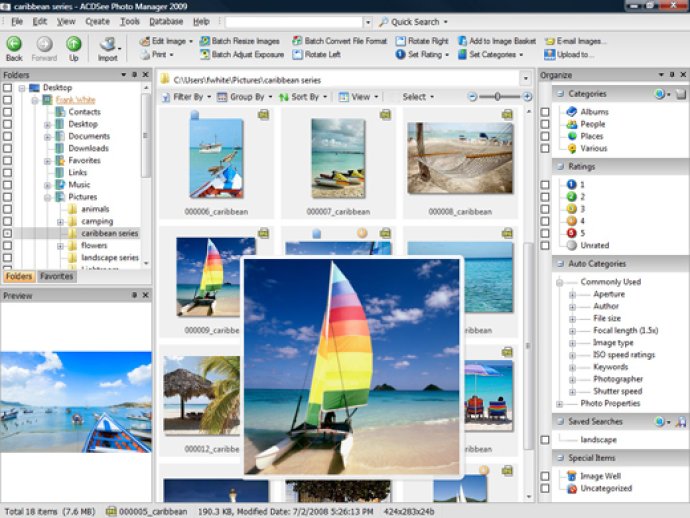 ACDSee 2009 is a software that lets you view photos instantly. No waiting for the image to open again. It is the fastest viewing software around. You can fill your screen with photos, zoom through your thumbnails, and view photos at full size.

The software allows you to stay on top of your entire collection. You can drag and drop photos into Windows® file folders, add keywords and ratings, edit your metadata, and create your own categories. Assigning images to categories won't take up more space on your computer.

One of the new features of this software is that you can define categories, keywords, create backups, and more as you pull images in from your camera or other storage device. When importing is complete, your files are already organized and ready for you to browse and share.

With ACDSee, you'll never lose track of a single shot again, even if you have thousands of photos in your collection. You can enter keywords like "New Jersey" or "wedding party", search only specific folders, and find that one special image with the Quick Search bar. You can also store your frequently used searches so you can use them again and again.

Instantly adjust exposure, fix common problems like red eye and blemishes, and erase distracting objects. Rescue photos that are too light or dark with a single click, thanks to ACDSee's patent-pending Shadow/Highlights tool. You can even add a finishing touch to your photo with a custom border, drop shadow or edge effect.

Finally, you can share your shots easily with ACDSee 2009. The software allows you to e-mail photos without worrying about file sizes. You can create CDs, DVDs, prints, and more. You can even upload to photo sharing sites without having to leave ACDSee. The enhanced slide show of your photos comes complete with music, pan and zoom, and color effects. It's easy to share your best shots with the world.
What's New
Version 11.0.113: Organize and back up as you import, embed your custom medatada, save searches, add borders, experience unicode support, save your originals, experience the improved auto slide show