AceMoney Lite simplifies personal finance management by enabling easy tracking of expenses, budgets, and finances in various currencies, as well as online banking capabilities. It makes it easy to manage checkbooks, record expenses, and monitor spending habits. Account transfers are also possible with this software.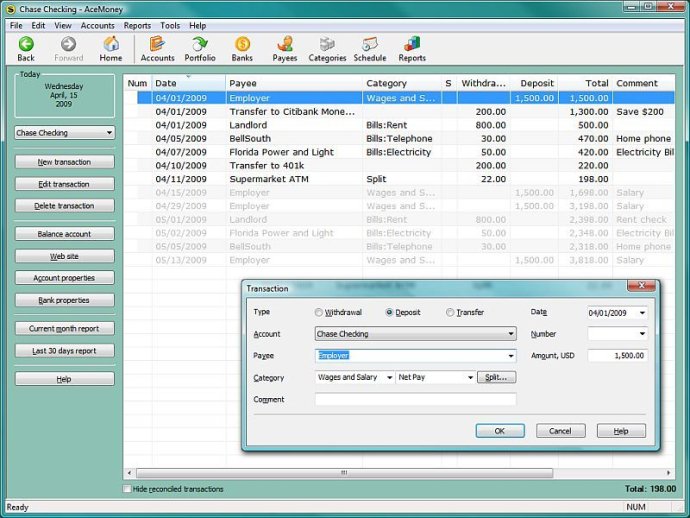 AceMoney is a software that can help you easily organize and manage your personal finances. It supports multiple languages, including English, Spanish, Russian, Italian, Dutch, French, Portuguese, Polish, Hungarian, and Swedish, with plans to add more in the future.

This program is designed for home or small-business accounting and has all the necessary features you need to manage all types of accounts, such as checking, savings, credit cards, loans, debt accounts, and more. You can even create custom account types like cash allowances for your children.

AceMoney makes creating and managing budgets simple. It has over 100 pre-defined spending categories, and you can define your own. You can set up budget limits for every category and track the difference between actual and budgeted values.

The software also supports over 150 currencies, making financial math painless. It downloads exchange rates from the internet automatically. You can track your spending habits and generate reports by categories or payees, such as tables or pie charts, to get a better understanding of where your money goes.

You can import and download information from online banks in QIF, OFC, and OFX formats, making online banking possible. Additionally, if you run a small business, the software lets you export your data to HTML, XML, Text, and CSV formats to generate statements or perform complex statistical analysis.

AceMoney takes control of your finances and ensures that you never miss a bill-payment date. It shows you when bills and income are due and can password-protect your account information. Scheduled backup is automatic, and many other features are available without prior accounting experience.
What's New
Version 4.36.4: New release
Version 4.36.1: New release
Version 4.36: New release
Version 4.35.2: New release
Version 4.18.1: New release
Version 4.16.1: New release
Version 4.16: New release
Version 4.12: New release
Version 4.5: New release
Version 4.3.1: New release
Version 4.2.1: New release
Version 4.1.2: New release
Version 4.1.1: New release
Version 4.0.2: New release
Version 4.0.1: New release
Version 3.20: New release
Version 3.19: New release
Version 3.18: New release
Version 3.17.3: New release
Version 3.16.2: New release
Version 3.16.1: New release
Version 3.16: New release
Version 3.15: New release
Version 3.13: New release
Version 3.12.3: New release
Version 3.12.2: New release
Version 3.12.1: New release
Version 3.11: New release
Version 3.9.4: New release
Version 3.9.3: New release
Version 3.8.3: New release
Version 3.8.2: New release
Version 3.8.1: New release
Version 3.8: New release
Version 3.7.3: New release
Version 3.7.2: New release
Version 3.7.1: New release