This brick busting game challenges your mind and reflexes with mesmerizing particle effects and object morphing graphics. New power items and bonuses enhance gameplay.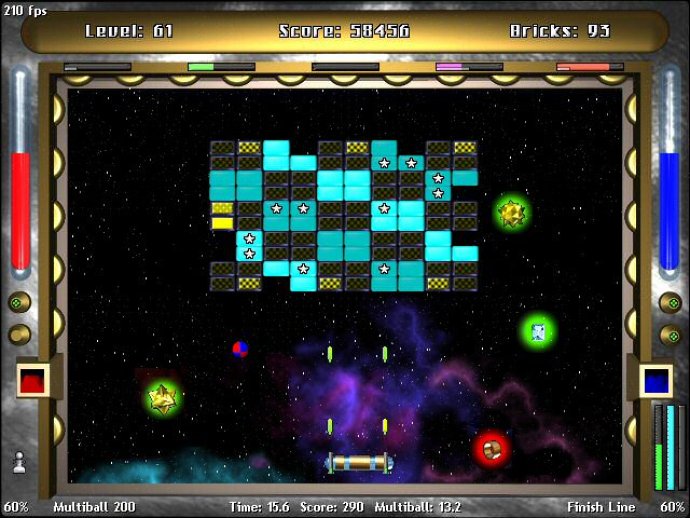 Are you ready to test your mind and reflexes in the ultimate game of brick busting? Look no further than Acky's XP Breakout. This game boasts dynamic graphics filled with particle effects and object morphing to mesmerize you throughout gameplay.

You'll enjoy enhanced gameplay with XP Mode and the ability to customize the game to your liking with various options available. The goal is simple: destroy all bricks in each level to progress to the next. However, Acky's XP Breakout offers a unique twist on the traditional ball and paddle genre. Instead of a set number of balls, players have two resources known as ether – red and blue – which combine to form a ball. Catch ether with your space pad to fill up your ether tanks and create more balls.

The game offers bonuses for completing different tasks, which are necessary to unlock XP mode – a special mode featuring superpowers. Completing each level gives players a bronze, silver, or gold trophy, and a ranking system is based on the number of trophies and bonuses obtained. Players can track their performance with saved statistics for each level, viewable online.

Acky's XP Breakout comes equipped with superior gameplay and exact control, 150 powerful levels, 80 different brick types, free level expansion packs, 26 unique power items, four difficulty settings, 16 bonuses, a built-in level editor, online stats tracking board, special gemstone and blaster items, and effects and object morphing.

Overall, Acky's XP Breakout offers a fresh take on a classic genre and is sure to entertain players for hours on end.
What's New
Version 2.5: None