Action! software captures Windows Aero desktop in high-quality HD, 4K and HDR videos in real-time. You can record web player videos, gameplay, add audio commentary, screen grabs, and much more. Perfect for creating tutorials and recording music.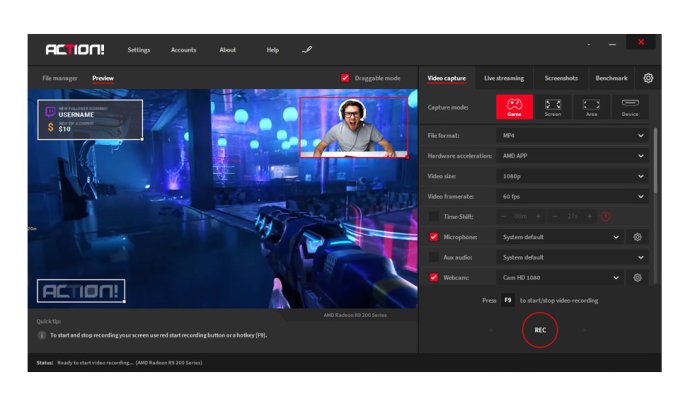 Action! is an exceptional software that enables users to capture the Windows Aero desktop in real-time with extraordinary HD, 4K, and HDR video quality. This software provides users with various features and functionalities to record web player videos, gameplay, display game framerates, add live audio commentary for creating high-quality tutorials, record music, capture screenshots, and much more!

One of the noteworthy features of Action! is its ability to provide LIVE streaming to Twitch.tv, YouTube, Facebook, and more! Users can also stream HLS HDR LIVE to YouTube, making it an excellent software for content creators. The software also enables users to have direct gameplay and desktop recording to MP4 format with Intel Quick Sync Video, NVIDIA NVENC, and AMD AMF. Additionally, Action! allows automatic recovery of corrupted MP4 recordings, making it a convenient tool for users.

The software is capable of recording high-quality 4K@60p and 8K HDR10 video, and it offers real-time HDR to SDR conversion. Users can capture screenshots in true HDR10 JPEG XL format and record the fullscreen Windows desktop or selected regions of the desktop. Action! is compatible with Windows Vista/7/8/8.1/10, and it offers webcam recording with background removal option (Chroma Key or Intel RealSense).

Moreover, Action! provides users with the perfect video match mode for perfectly smooth web player video recordings. The software enables users to record gameplay of DirectX 8/9/10/11/12, UWP, OpenGL, and Vulkan games and applications, and it displays FPS and average FPS for games and desktop. Users can use the free Remote Control app for Android, save benchmark results to HTML file, and have recordings pause/resume option.

Action! offers the option of adding custom logo/overlay graphics, and it provides Logitech G13/G15/G19 keyboards LCD display support. The software allows live audio commentary with microphone, recording audio only, and fullscreen games and desktop screenshots to JPG, PNG, or BMP. Additionally, users can capture selected region desktop screenshots and export video recordings to popular formats, devices, YouTube, and Facebook. The software offers NVIDIA NVENC, AMD AMF, and Quick Sync Video acceleration for video exporting.

Action! has a user-friendly and stylish interface, smooth and easy recording playback with a built-in Action! player, ultimate performance, low CPU usage, and high FPS video recording. The software provides mouse clicks visualizations and displays detected 3D engines for games and applications. Also, Action! provides multicore CPU support.

The technical specification of Action! includes video recording to AVI 2.0 (FICV) or directly to MP4 (H.264/AVC or H.265/HEVC) format, exporting video recordings to MP4 format (H.264/AVC), and video recording framerates ranging from 15 to 360. In conclusion, Action! is an outstanding software that offers a broad range of features and functionalities, making it a valuable tool for content creators and users who want to record high-quality videos.
What's New
Version 4.24.0: - Fixed HDR10 recording/streaming support for AMD GPUs with latest (October) drivers installed
- Fixed problem with Forza Horizon 5 (Steam version)
- Installer improvements
- Internal video player improvements
- Stability fixes
- Action! can now be installed (and run) without administrator rights on administrator accounts
- Fixed spatial audio capture on newest Windows 11 builds with audio device set to Selected Application
- Fixed HDR detection on newest Windows 11 builds
- Fixed very long URL handling for web browser widgets
- Internal video player improvements
- Fixed mouse cursor rendering in high DPI or with custom cursor size/shape set
- Fixed JPEG XL HDR metadata (JPEG XL screenshots are now compatible with latest Chrome browser that supports JPEG XL)
- Fixed RTMP/RTMPS and HLS streaming auto-reconnection
- Added Acoustic Echo Canceller (AEC). Removes echo when recording without headset microphone or on systems with no hardware echo canceller. This option can be set in microphone settings window