This software is an ActiveX control that adds audio and video playback, mixing abilities, and playlist management features to DJ applications. It allows for separate controlling of volume, pitch, and equalizer values.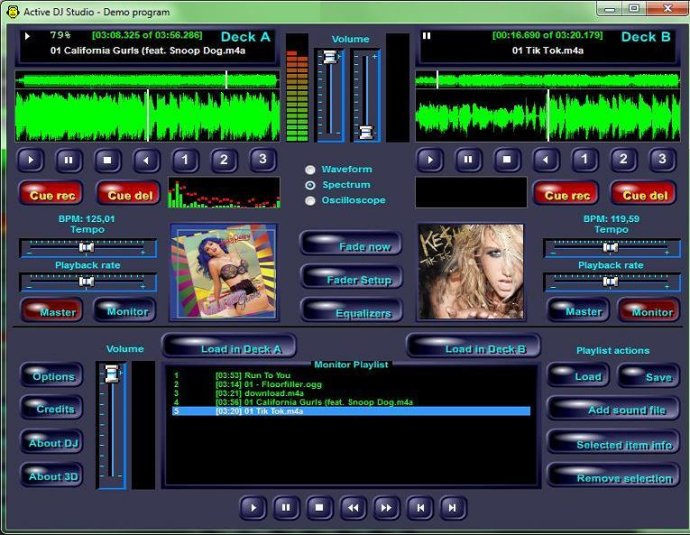 Active DJ Studio is an ActiveX control that offers unparalleled playback and mixing capabilities for multimedia applications. This software is designed for audio and video enthusiasts, and it contains a wealth of features that make it a must-have for music lovers, DJs, and enthusiasts.

The software boasts a range of capabilities, including playback of many audio formats through DirectSound, ASIO, and WASAPI. Additionally, it supports the playback of video clips whose DirectShow compatible codec is installed within the target system, and users can also play files stored on an Internet server.

The software also allows for playback of Internet radios and provides users with the ability to change the player volume and sound card volumes. With its multi-player feature, users can easily mix audio tracks and even create real-time embedded visual feedbacks that include a VU-Meter, Oscilloscope, Spectrum, and Waveform display.

Active DJ Studio also supports reverse playback of audio tracks, and users can choose the sound card output and assign speakers as well. Additionally, it allows for music recognition through ACRCloud, and it has a sound composer with its own user interface. Users can also enjoy Youtube connection and downloads, as well as an embedded downloader.

Other notable features include playlists support, CDDB database queries, and the retrieval of CD cover pictures. Users can also load sound files from memory and export loaded sound to WAV format on both disk file or memory buffer.

Active DJ Studio features an automatic Fader and pre-amplifier, advanced equalizer, and auto-equalization of audio tracks through formatted XML files. It also supports BPM (Beats Per Minute) detection and beats position detection. Plus, it has Tempo, Playback rate, and Pitch support, and it offers management of position triggers and cue points.

The software also supports DirectX Media Objects (DMO) effects, custom DSP effects, VST effects, as well as waveform analysis. It also supports delayed playback of loaded sounds, encrypted sounds, and lyrics synchronization through LRC files. Users can create graphic bars for custom displaying of VU-Meters, Spectrum, and Progress bars, and the software integrates with our Active Sound Recorder and Active Sound Editor components.

Overall, Active DJ Studio is a powerful software that offers an impressive range of features for audio and video enthusiasts. It is easy to use, and the intuitive user interface ensures that even beginners can get started quickly. Whether you are a professional DJ or a music lover looking for a more immersive experience, Active DJ Studio is the software you need.
What's New
Version 11.0: New features added