This talking calendar software offers weather forecast and can pronounce reminders. It can alert users about world holidays, facilitates automatic PC shutdown, and sends reminders via email. The program also has a feature for emailing birthday greetings and additional functions for maximum convenience.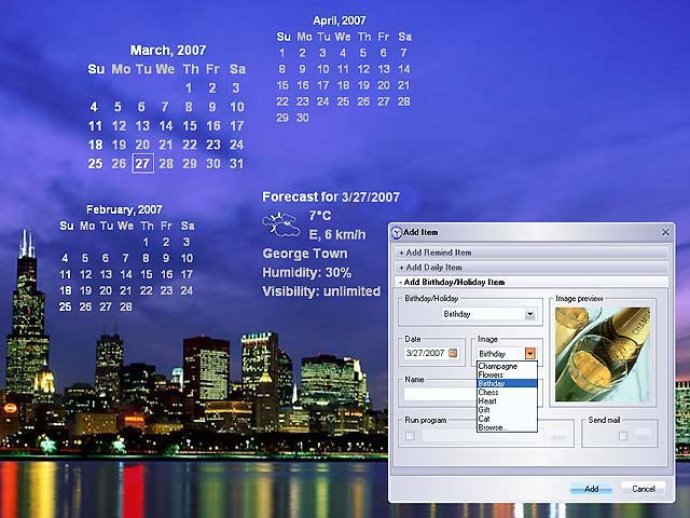 Actual Reminder by East Imperial Soft is a software program that provides a powerful and convenient way to manage reminders on your desktop. With the ability to pronounce your reminders, including meetings, important events, and holidays, Actual Reminder ensures that you stay on top of your schedule. Whether you need daily or weekly reminders, this program provides a comprehensive solution for all of your organizational needs.

Using hot keys, you can easily add or view reminders with a click of a button. The program also includes a calendar that allows you to view the entire year with the touch of a button. You can also set automatic shutdown, reboot, log off, or sleep mode for your computer.

Actual Reminder also includes the ability to automatically change your desktop wallpapers. You can even set the program to play music for your reminders, or choose your own music from an existing database. Additionally, the program features an integrated organizer that allows you to view all of your events in daily, weekly, monthly, or yearly overviews.

With the ability to access the internet, Actual Reminder provides a convenient weather forecast for your city, including weather outlooks for the next five days. The program can also voice the forecast to you with the press of a button.

For birthdays and holidays, Actual Reminder allows you to choose from a library of pictures and photos to automatically send greeting cards to your loved ones. You can also choose any program from your PC to run or setup automatically sending emails when reminders occur.

The program also includes the option to set the image of the calendar for the current month (or three months) on your desktop. Additionally, Actual Reminder can announce the time, weather forecast, and holidays every hour.

The program supports different skin interfaces and all settings are easy to access, allowing users of all levels to operate it with ease. Overall, Actual Reminder is a comprehensive software program that provides a convenient and effective means of managing reminders and keeping your schedule on track.
What's New
Version 3.0.9 + Weather: Pronunciation in voice of any reminder;

The calendar and the weather forecast on a desktop;

Reminding through E-mail;

E-mailing birthday greetings