AD FastReporter simplifies the generation, storage, scheduling, and sharing of AD reports. It is user-friendly and does not require expertise in scripting or LDAP.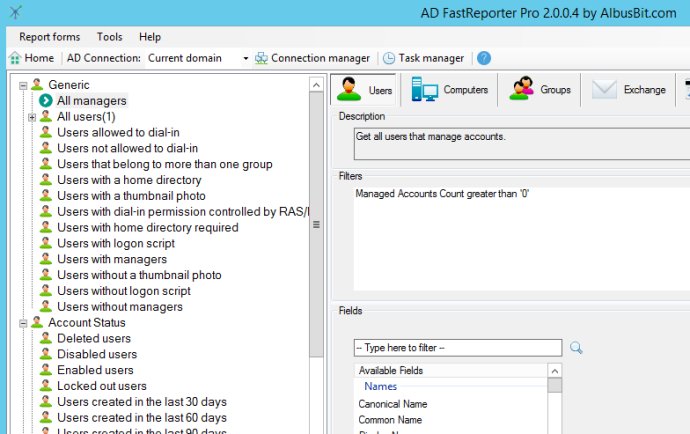 If you're looking for a software solution to help with generating, storing, scheduling, and sharing your Active Directory (AD) reports, then AD FastReporter might be just what you need. This easy-to-use tool doesn't require any scripting or LDAP expertise to get started. You can try out the free version that comes with built-in forms to generate reports, or upgrade to the Pro version for additional customization options.

With AD FastReporter, you'll get a built-in local database and engine, so there's no need to install or configure anything. All your custom report forms and generated reports are automatically saved to the secure database, but you can turn this function off if you prefer. If you have the Pro version, you can automate tasks using Windows Task Scheduler or other scheduling tools. You can even perform tasks via the Windows command line using the task ID.

AD FastReporter is compatible with modern and older versions of Windows operating systems, and it comes with both 32-bit and 64-bit versions in one setup file to make installation easy. You can export reports in CSV, Excel (XLSX), and HTML formats to suit your needs. The tool includes a wide range of standard LDAP attributes and calculated attributes that you won't find in other reporting tools or PowerShell commands. Plus, it's one of the fastest reporting tools on the market, so you can generate reports quickly and efficiently, even for large Active Directory objects.

In summary, if you need to generate detailed and customized AD reports quickly and efficiently, AD FastReporter might be a great software solution for you.
What's New
Version 2.1.1.2: - Added a new group report field - notes.