This software allows easy sending of text or HTML emails using SMTP from your VB, VB.NET, C++, C#, ASP, ASP.NET, or Delphi application. It directly sends email to recipient mail server, supports non-blocking calls, attachments, embedded images, and progress events.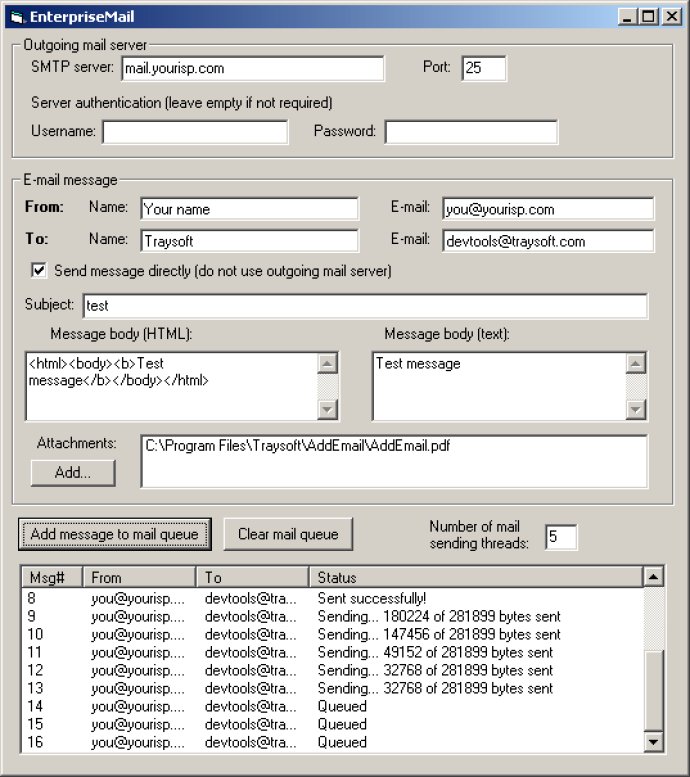 If you're looking for a powerful software tool that will help you create and send text or HTML emails effortlessly, AddEmail is the solution you need. With this application, you can easily send emails with attachments and embedded images directly from your development environment.

AddEmail is compatible with all development environments that support COM objects, ActiveX, or OCX controls, including popular platforms like Visual Basic (VB 5 and VB 6), Visual C++, VB.NET, C#, ASP, ASP.NET, Access, Delphi, PowerBuilder, FoxPro, and more.

Whether you're sending emails for personal or business use, AddEmail has you covered. This software tool supports SMTP and ESMTP protocols with optional authentication and encryption (SSL), which provides an added layer of security for your email communications. Additionally, it supports an unlimited number of attachments, embedded images, non-blocking calls, progress indication events, To, Cc, Bcc, and ReplyTo fields, international characters, in-memory attachments, and much more.

The built-in multithreaded SMTP engine allows you to queue and send emails directly to recipient mail servers, which ensures fast and reliable performance. Finally, the AddEmail component comes with excellent support service, ensuring that any questions or issues you encounter are quickly resolved.

Overall, if you're searching for a reliable, user-friendly software tool that makes sending professional-looking emails effortless, AddEmail is the solution for you.
What's New
Version 4.2: Fixed decryption errors with Office 365 mail service