The Adept PDF to Word Converter quickly converts PDFs to formatted MS Word documents, while maintaining the original layout and graphics.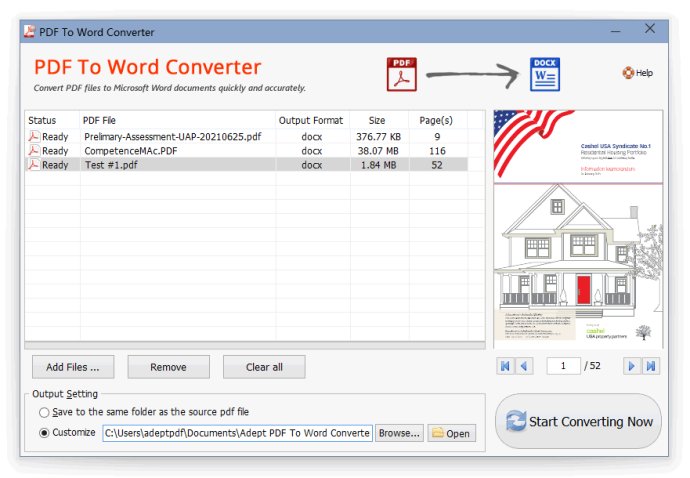 If you're looking for a comprehensive software program that can convert PDF files into Microsoft Word documents, then the Adept PDF to Word Converter might just be what you need. With this software, you can easily export the text, images, and other contents from any PDF document to MS Word document format, so you can easily edit and reuse your PDF content.

One of the best features of the Adept PDF to Word Converter is that it preserves the original PDF text, layout, and bitmap images in the generated Word document. This means that you can expect your documents to look exactly the way they did before converting them to Word format. Additionally, the software is a standalone program, which means that you do not need additional software tools like Microsoft Word, Adobe Acrobat, or Acrobat Reader for it to work.

Some of the key features of the Adept PDF to Word Converter include its ability to automatically resize the PDF page to fit your required Word page size, its support for encrypted PDF file conversion, its ability to accurately preserve text, pictures, and layout of the original PDF, and its support for page range conversion (all, from-to, individual pages).

Other notable features of the software include its ability to recognize tables, support for deletion of graphics and pictures from the generated Word document, two optimization modes for PDF to Word conversion, support for multiple documents conversion (batch processing), and support for converting PDF files to flowing MS Word documents without text boxes.

Moreover, the software supports PDF1.8 file format (formerly supported only by Adobe Acrobat 9.0) and can work on Windows 2000/XP/2003/VISTA/7/8/10 or later versions. Lastly, you can easily install and uninstall the software anytime you want.

Overall, the Adept PDF to Word Converter is a great option for anyone who wants to convert PDF documents to MS Word format without losing the original formatting and layout. With its numerous features and functionalities, the software can make your work easier and more efficient.
What's New
Version 4.00: Improve the effect of conversion.