This software offers quick and efficient conversion of PDF files to Microsoft Word documents with minimal loss of content. It extracts and saves images and tables from the PDF files, and offers fast, split-second conversion. Additionally, it allows for batch conversion of multiple files at once.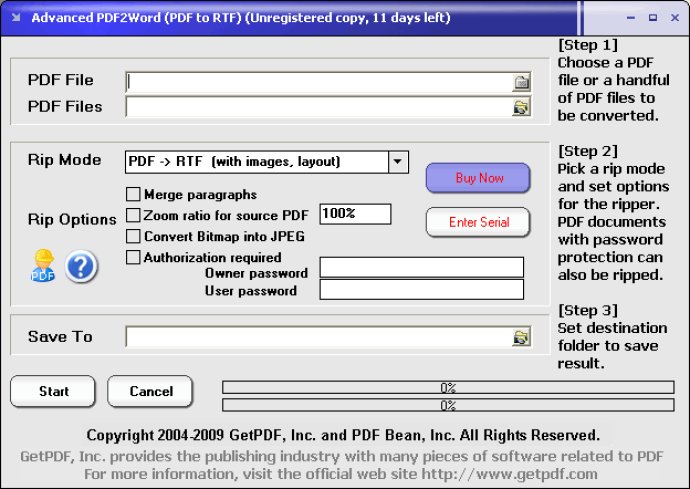 PDF2RTF is a powerful software tool that allows you to convert PDF files to Microsoft Word documents with minimal conversion loss. This means that when you convert your files, you won't lose any of the original formatting, images or tables that were in your PDF file.

One of the key features of PDF2RTF is its lightning-fast conversion speed. In many cases, the conversion process takes just a split second, which means you won't be left waiting around for your files to be converted. Additionally, the software offers batch conversion, so you can convert multiple files at once in just a few clicks.

PDF2RTF also offers a range of customization options to help you tailor the output to your needs. For example, you can adjust the zoom ratio, merge paragraphs, set passwords for encrypted PDF files, optimize images and output file size, and embed PDF document information. These options give you greater control over the conversion process, and ensure that your output documents meet your specific requirements.

Another advantage of PDF2RTF is that it supports all PDF standards, from PDF 1.0 to PDF 2.0. This means you can convert files from any version of the PDF format with ease. What's more, the software is standalone and royalty-free, which means you don't need to have Adobe Acrobat installed on your computer to use it.

Overall, if you need to convert PDF files to Word documents, PDF2RTF is an excellent choice. With its fast conversion speed, customization options, and support for all PDF standards, it offers a powerful and versatile solution for your conversion needs.
What's New
Version 3.0: Support Windows 8.1