Monitor local and network printers with Advanced Printers Activity Logger. Keep track of all printing activity on Windows NT/2000/XP and reduce wasted money from uncontrolled and irresponsible printing.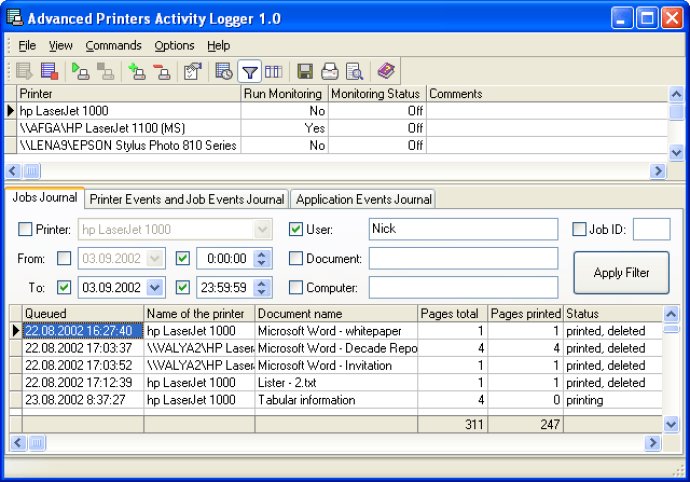 As a business owner or manager, it is crucial to optimize your expenses, especially those related to printing documents. The costs of paper, toner, and printer maintenance can add up quickly, even for medium-sized enterprises. Luckily, there are printing audit programs available that can help ensure the rational usage of printers in your organization.

Advanced Printers Activity Logger is just such a program. Designed for Windows NT/2000/XP, it monitors both local and network printers and keeps track of all printing activity. With Advanced Printers Activity Logger, you can carry out a detailed analysis of your printer hardware usage, document flow volume, and the amount of money your organization spends on printing documents.

But that's not all. Advanced Printers Activity Logger can also tell you the state of a particular printer, and who and what is printing on it. The printing tracking feature allows you to find out the current situation in that area and work out ways to reduce expenses, deploy the optimum paperwork tracking solution, and set long-term control over all of the organization's printing means.

Some key features of Advanced Printers Activity Logger include its ability to keep track of all print jobs and record detailed information on each print job, including the date, time, printer, user, computer, document name, pages total, pages printed, bytes total, bytes printed, size of the paper, color or monochrome, double-sided or not, ICM, ICC, and more.

The program offers three types of log journals and runs as an NT-service, with a separate application to control the monitoring service and view/export/print log journals. Advanced Printers Activity Logger uses fast and reliable Interbase/Firebird 6 DB (included in the installation) and offers powerful filters for easy data finding. You can export your data to MS Excel, MS Word, CSV, HTML, XML, and DB formats. Plus, the multi-language interface makes it accessible to users all over the world.
What's New
Version 1.2: Keeps track of all printing activity across a network