AlbumMe is user-friendly software that enables easy creation of slideshows using personal photos and videos. It includes pre-designed animated templates, impressive transition effects, text captions, and music to enhance the experience.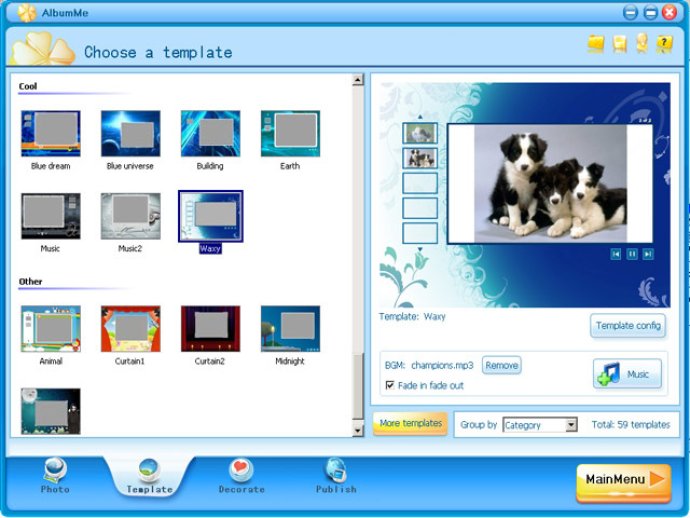 AlbumMe is an efficient software that allows you to create incredible slideshows from your pictures and videos with ease. Its interface is incredibly user-friendly and intuitive. With this software, you get access to a wide range of templates, transition effects, captions, and music to give your slideshow that professional touch.

One of the amazing things about AlbumMe is the various slideshows publishing options you have. You can publish your slideshows as a SWF Movie or an executable file, HTML5 video on your local disk, a video file or even as a screen saver. Additionally, you can effortlessly embed your favorite published flash into your blog, Myspace, or other web pages.

In summary, AlbumMe proposes an effective solution for anyone who wants to create slideshows with their photos and videos. You don't have to have advanced skills to use AlbumMe's features, and you'll appreciate the many presentation options available. Overall, this is a useful tool to spark your creativity in creating an excellent slideshow.
What's New
Version 5.9.0: Fix some bugs.
Version 5.8.0: Fix some bugs.
Version 5.7.0: Fix some bugs.
Version 5.6.0: Supports the latest Adobe Flash Player.
Version 5.5.0: Add more log information.
Version 5.3.0: Fix some bugs.
Version 5.1.0: Html5 output use muted tag as default.
Version 5.0.0: Update html5 video tag info.
Version 4.8.0: Fix some bugs.
Version 4.7.0: Allow drag and drop pictures to software.