ALSOG is software that aids in the processing, interpretation, and display of Lindenmayer Systems. ALSOG enables the use of stochastic, context-sensitive, and parametric Lindenmayer Systems.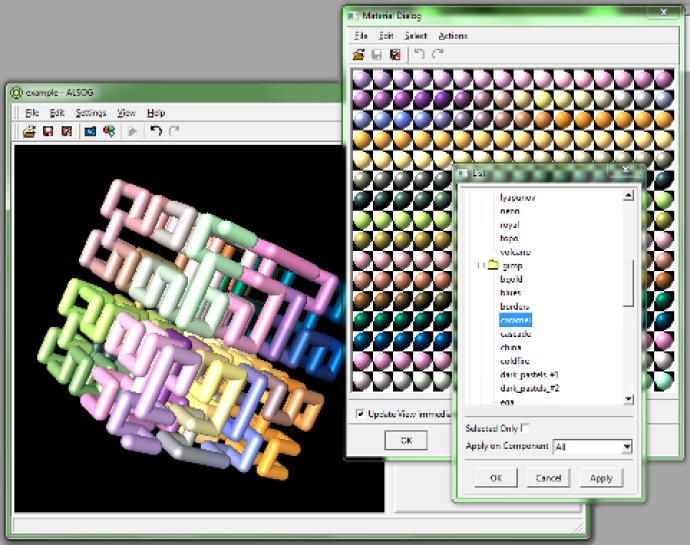 ALSOG is a powerful tool that offers comprehensive support for parsing, interpreting, and rendering Lindenmayer Systems. Whether you're working with stochastic, context-sensitive, and/or parametric systems, ALSOG offers the functionality you need to bring your design to life.

One of the key features of ALSOG is its support for variable interpretation of symbols, pre-set with standard values. This makes it easy to experiment with different design approaches and see how they impact the output. Furthermore, the software supports a range of 3D shapes including line, tube, cone, sphere, or torus, so you can create truly unique and compelling designs.

Another advantage of ALSOG is its support for different methods for colouring. Whether you prefer to use gradients or solid colours, you can easily apply them to your designs to create stunning visual effects.

Exporting your designs is also a breeze with ALSOG. The software supports a range of image and 3D object formats, including PNG, GIF, JPG, BMP, OBJ, FLT, and OSG. This means you can easily share your designs with others or incorporate them into other projects.

To make getting started with ALSOG as easy as possible, the software includes a range of tutorials and other helpful resources. Whether you're new to Lindenmayer Systems or an experienced user looking to expand your skills, you'll find plenty of useful information in the documentation section.

All in all, ALSOG is an essential tool for anyone working with Lindenmayer Systems. With its powerful feature set and user-friendly interface, it's the perfect choice for both beginners and experienced users alike.
What's New
Version 1.0: N/A