This software empowers users to send text messages from their PC through Android-based mobile devices without the need for an internet connection. It also enables businesses to communicate with their clients by sending marketing messages to them simultaneously.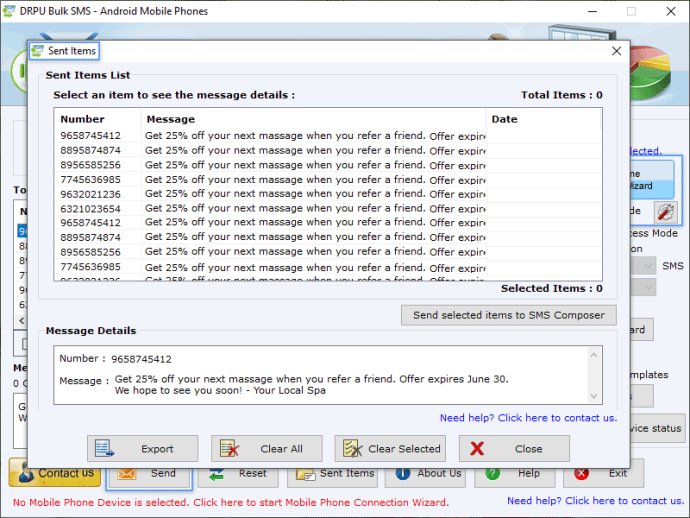 The Bulk message software for android mobile phones is a great tool for users who want to convey their information quickly and affordably through text messages. This software provides three modes of sending messages - single shot execution, one by one contact process in standard or classic mode. The single shot execution allows users to send all their messages at once when the device is connected to a computer. The one by one contact process allows users to send messages individually.

Users can send text messages or notifications through the software, which also allows them to export or import templates. The software is useful for both professional and non-professional users. Professional users can promote new products and send notification SMS to their clients, customers, or business partners. Non-professional users can stay in touch with their family and friends by forwarding seasonal greeting messages from their computer using their android cell phone device.

The software also has a delay delivery option that enables users to control and customize the load of SMS broadcasting. Users can select the 'Delayed Delivery Options' and specify the number of SMS and time interval to pause or delay SMS delivery at selected intervals.

The software supports all window versions, including Windows 11, Windows 10, Windows 8, and 7, and supports Unicode characters to compose and deliver messages. Users can also update single or multiple text messages and save delivered item details to a specified location on their computer for future reference. Lastly, the software can transmit text messages worldwide without requiring an internet connection.

Overall, the Bulk message software for android mobile phones is a reliable and efficient tool that simplifies the process of sending text messages and notifications without costing a lot of money or taking up too much time.
What's New
Version 10.2.4.4: Added Support for Latest Windows 11 OS Updates. Added Support for High DPI resolutions Compatibility. Added new Bulk Text Messaging Technology. Added additional Features to import contacts or messages from Excel Sheets.