AnyMP4 iOS Cleaner frees up space, speeds up iOS devices by deleting junk/temporary files, caches, unwanted data, and large files. It enables easy uninstallation of applications. It helps maintain optimal device performance.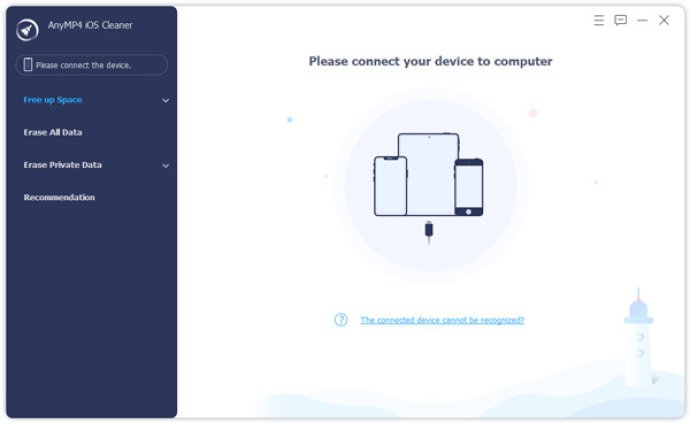 AnyMP4 iOS Cleaner is an incredible software that enables iOS users to enhance the performance of their iPhone, iPad, or iPod Touch. With this software, users can easily free up more space on their devices by erasing junk and temporary files, caches, unwanted data, and large files or by uninstalling applications, providing users with ultimate speed-up responsiveness of their iOS devices.

One of the key functions of AnyMP4 iOS Cleaner is to free up more space. The software effectively clears images, junk, temporary files, hidden caches, unwanted data, and large files, allowing users to save their phone storage. By cleaning up system junks, the software also ensures that the iOS device has excellent performance.

Another key function is the ability to erase data with three erasing levels based on the user's requirements. This feature ensures that users can protect their valuable data and privacy by choosing erasing levels, namely low erasing level (erase all iOS data quickly), middle erasing level (erase deleted data without recovery), and high erasing level (erase any private data unrecoverably and safely). The three erasing levels ensure that users can keep innumerous personal information from disclosure, making it safe to sell or donate their iOS devices.

Lastly, AnyMP4 iOS Cleaner arrives with several other useful functions, including the ability to backup original photos to PC before erasing data on iOS devices. Thus, users can prevent losing important memory photos. At the same time, they can compress HEIC, JPG, and PNG photos and save the compressed photos on their computer.

In conclusion, AnyMP4 iOS Cleaner is an advanced software that provides comprehensive toolsets to keep iOS devices running smoothly, and ensuring personal data is securely erased.
What's New
Version 1.0.20: Fix some bugs.
Version 1.0.12: Fix some bugs.
Version 1.0.10: Fix some bugs.
Version 1.0.8: New product.