AnyRec is a versatile video burning software that handles MP4, MKV and other video formats. Use it to create Blu-ray discs or ISOs, organize video folders or burn batches of videos simultaneously.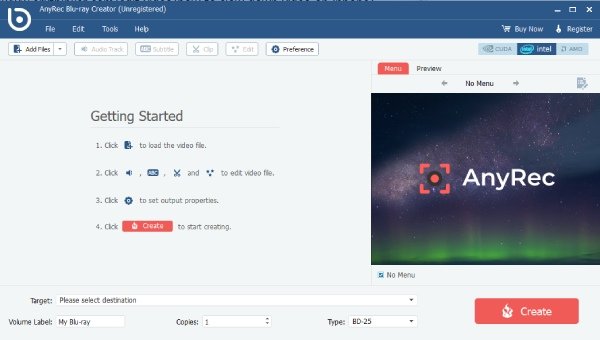 If you're in the market for a reliable software to burn Blu-ray discs, look no further than AnyRec Blu-ray Creator. This impressive tool boasts a wide range of features that make it the perfect choice for anyone seeking to burn Blu-ray discs, folders, and ISO files quickly and easily.

One of the best aspects of AnyRec Blu-ray Creator is the ability to customize your experience. You can set personal preferences while burning the video, ensuring that the output is tailored to your liking.

Some of the key features of this software include its support for popular video formats such as MP4, MKV, AVI, FLV, MPEG, VOB, and M2TS. Additionally, AnyRec Blu-ray Creator supports BD-25 and BD-50 for video to Blu-ray disc burning. The software also works seamlessly with popular Blu-ray players, including Sony BDP-S5 and Samsung BD-F.

Another standout feature of AnyRec Blu-ray Creator is its video editing capabilities. The software allows you to apply various effects before burning the Blu-ray, with a real-time preview window. You can add and edit audio tracks as background music in different languages, volumes, latencies, and more. Plus, you can easily insert subtitles in formats like SRT, SSA, and ASS, with adjustable position, delay, and font size.

AnyRec Blu-ray Creator also offers a selection of Blu-ray menu templates, including family, travel, and wedding themes. This makes it easy to customize your Blu-ray according to your preferences.

Finally, AnyRec Blu-ray Creator boasts an exceptional burning speed. Thanks to advanced Intel, CUDA, and NVIDIA AMD acceleration technology, you can quickly burn video to Blu-ray disc, folder, or ISO file with high-quality output.

Overall, AnyRec Blu-ray Creator is a versatile and user-friendly software that is sure to impress. If you're looking to create your own Blu-ray discs, this tool's many features and fast burning speed make it a top choice.
What's New
Version 1.0.10: 1. Update the menu style
2. Modify known bugs and optimize programs
Version 1.0.8: New product released