"Convert videos easily and efficiently for multiple devices including Apple TV, Xbox, PlayStation, mobile phones and more with Blackberry, Nokia, Samsung, and Android compatibility in one software." (49 words)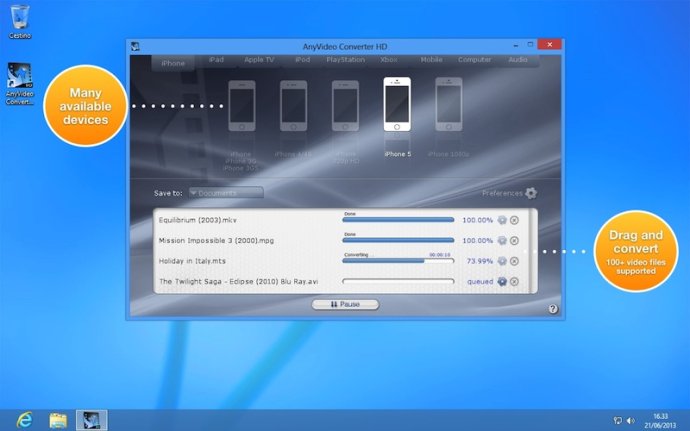 Looking for a versatile video converter that can cater to all your device needs ranging from Apple TV, iPad, iPhone, iPod, Xbox 360, PlayStation 3, PlayStation Vita, PSP, computer, mobile phone like Blackberry, Nokia, Samsung, Android, and many others? Look no further than AnyVideo Converter HD!

This video converter is the fastest and the easiest way to convert all your movies for every device with minimal effort. You don't need to possess any technical knowledge to use this software as there are no settings required. Simply drag and drop your videos in AnyVideo Converter HD, and it'll efficiently handle the rest.

What's more, AnyVideo Converter HD comes with a range of cool features like high-speed video conversion using Remux, suited for .mkv files, audio language selection, and extracting audio tracks from your movies. Additionally, you can choose or add subtitles from an external file and automatically deinterlace for better viewing on digital screens.

This highly efficient software also works with 5.1 - 6.1 and 7.1 audio files, can sync with iTunes for all Apple devices, and it comes with encoding engine optimized for both 32 and 64-bit devices.

Another highlight of this software is that its conversion process keeps the right aspect ratio of the source without any distortion or color palette changes. AnyVideo Converter HD uses video and audio codecs that are the best choice for the output device, and there are no ads to distract you.

Not only can you easily convert video files but also audio files to mp3 or m4a. The software supports a plethora of input file formats like .avi, .mov, .wmv, .flv, .m4v, .3gp, .mkv, .mpeg, .mpg, .mpe, .mp4, .aaf, .asf, .ogg, .DivX, .XviD, .rm, .rmv, .ogm, .ogv, .dv, .ts, .mod, .mts, mpeg-1, mpeg-2, mpeg-4, avchd, matroska, H264, H263, H261, AAC, and more.

Overall, AnyVideo Converter HD is the perfect software for anyone looking for an efficient and user-friendly video conversion solution without compromising on the video and audio quality.
What's New
Version 2.1: N/A