Apeaksoft DVD Creator for Mac is a powerful software used for creating DVD, Blu-ray, folder, and ISO files using any video format. It allows users to trim, crop, and add watermarks to videos before creating the disc or file.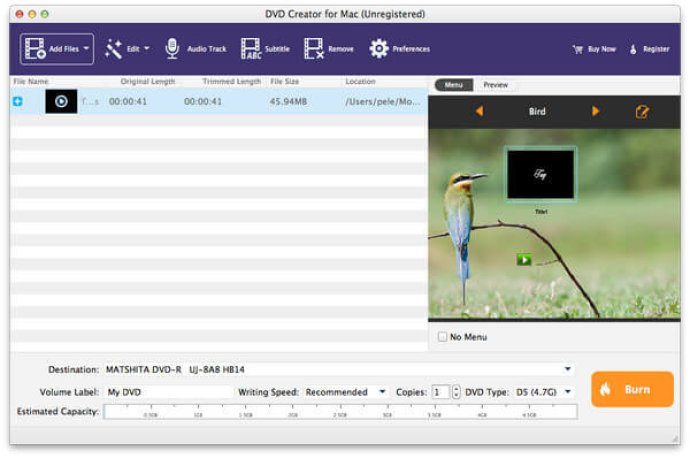 Apeaksoft DVD Creator for Mac is a powerful software that allows you to create DVD, Blu-ray disc, folder or ISO files using any popular video format, such as MP4, AVI, WMV, MOV, M4V, MKV, MTS, and more. You can also add audio tracks and subtitles of your choosing to enhance the viewing experience.

The software offers a variety of menu templates, frame styles, and button options to customize the interface. You can even add background music and a background picture to make it more unique. Additionally, you can browse opening films to provide a more cinematic experience.

Apeaksoft DVD Creator for Mac also provides multiple editing features to refine your videos. You can trim the video length, crop the video frame, and add watermarks to the videos. You can also adjust the video effect to make it look better or more dramatic.

The software supports various audio formats and subtitles, allowing you to add subtitles and audio tracks in different languages. You can choose the name, position, delay, font size, and colors to customize the appearance of each subtitle.

With Apeaksoft DVD Creator for Mac, you will experience fast burning speed and high-quality DVD or Blu-ray output. You no longer need to wait for long hours for the creation of your DVD or Blu-ray. In just a few minutes, you can enjoy your DVDs in your DVD player or Blu-ray player.

Overall, Apeaksoft DVD Creator for Mac is an excellent software for creating DVDs and Blu-ray discs for personal or professional use. Its user-friendly interface and various customization options allow you to create high-quality DVDs that will impress your viewers.
What's New
Version 1.0.50: Fix some bugs
Version 1.0.38: Fix some bugs
Version 1.0.32: 1. Solve the crash problem
2. Fix some bugs
Version 1.0.30: Modify the problem of default font selection for adding subtitle files
Version 1.0.28: Fix some bugs
Version 1.0.26: 1. Fix DVD language and editing crash problem
2. Fix the problem of burning to disk failed
3. Fix some bugs
Version 1.0.22: 1. Modify the burning failure problem due to subtitle and font
2. Modify the settings of burning multiple times, it will not prompt successful burning when it comes to second disc
Version 1.0.18: 1. Add Notarization certification 2.Fix some bugs
Version 1.0.10: Modify multilingual links
Version 1.0.6: Repair part of bugs