Arcade Race is a thrilling 3D racing game featuring a unique third-person perspective. The game has two modes, and the goal is to be the first to finish the race. Players can use various bonuses to attack their opponents and gain invincibility. Enjoy an original gameplay experience in this cool new game.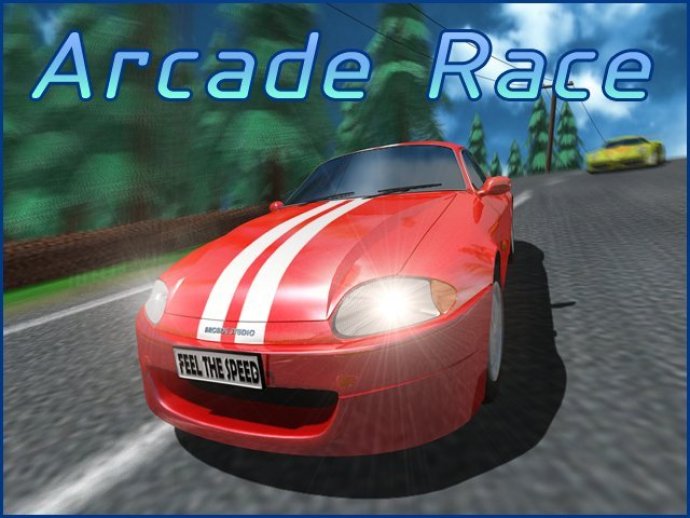 ArcadeStudio.com is proud to present their latest game - the addictive 3D racing game, Arcade Race. This game provides a unique 3rd person perspective for this genre. Race as fast as you can, bomb your rivals and watch out for rival mines and mussels.

Experience two game modes - Tournament and Single Race. The Tournament mode has you racing on each track successively with the goal of finishing first to move forward. The Single Race mode enables you to select any track you desire.

The full version of Arcade Race features eight amazing tracks with steep turns and remarkable scenery for a thrilling and addictive gameplay. Your gameplay can be enhanced with a variety of bonuses which will enable you to overcome your competitors. The missile helps you shoot at competitors that are ahead of you, the mine keeps them from bypassing you, and the nitro-acceleration increases your speed. You also get non-susceptibility to defend yourself from missiles and rival mines.

It is essential to take note of the game controls, which include - the Up Arrow for acceleration or moving forward, the Down Arrow for braking or backward movement, the Left and Right Arrows to steer, Space bar to launch a rocket and Ctrl key to place a mine. You can also pause or access the game menu using the Escape key.

This is a shareware game, and you can try it out for free for one week. So, experience a lot of fun as you take part in this race!
What's New
Version 1.27: N/A
Version 1.26: Some bugs are fied
Version 1.25: Some bugs are fied
Version 1.23: Some bugs are fied
Version 1.22: N/A
Version 1.21: N/A
Version 1.1: N/A