Arclab Dir2HTML generates HTML index files from computer hard drives' directories and files.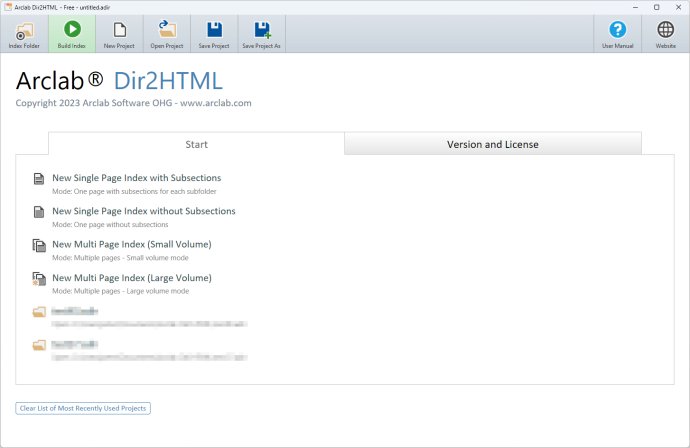 Arclab Dir2HTML is a software that efficiently converts a large number of directory structures and files to a single HTML file. It provides a user-friendly index of files and folders present on your hard disk. The recursive indexing feature allows for the conversion of subfolders along with their contents to the index file.

The ability to create sub-sections for each subfolder within the index file makes navigation easy, efficient, and intuitive. In addition, you have the option to hide subfolders to provide a streamlined view of the index. Arclab Dir2HTML has the added ability to create HTML sitemaps in .htm format, useful for optimizing your website's search engine result.

The Mask (Search Files) feature provides a filtration option to exclude specific files or folders to ensure only relevant information is displayed in the HTML index. Linking files and folders is straightforward as the custom link-prefix feature allows for easy addition of links for online and offline projects. The software also supports adding back-links, file size, date, and description cell, and a summary that includes the total size and number of files.

Arclab Dir2HTML offers various customization options to enhance the HTML index's visual appeal. Features such as lowercase or uppercase of files and folders, custom page titles, table align and width adjustment, and customization of fonts and colors are available. Moreover, the software is compatible with various devices and browsers using the UTF-8 format for encoding.

Arclab Dir2HTML is a must-have tool with robust features that offer excellent customization options for the conversion of directory structures to HTML. This software is ideal for anyone dealing with a large number of files and folders, whether personal or professional. Overall, this is an exceptional tool!
What's New
Version 4.0: Service Release
Version 3.1: Service Release