Disk Scanner is a free utility for checking hard drives for read errors. It conducts a raw sector scan, providing a snapshot of the disk's condition through a graphical display, highlighting bad clusters to enable quicker interpretation of results.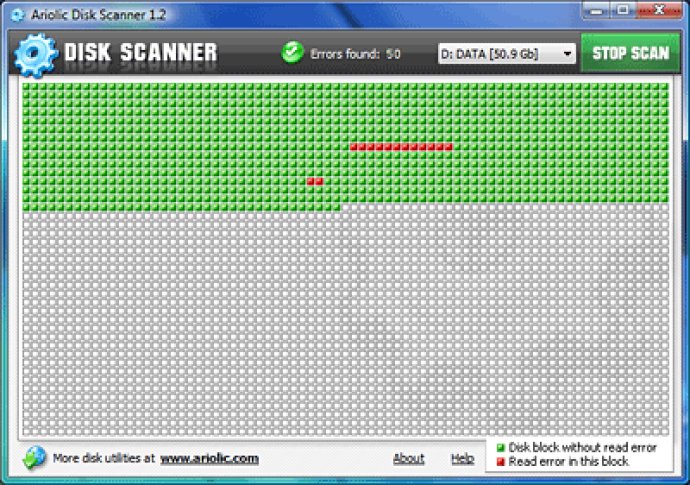 Disk Scanner is a free software utility designed to help you detect and troubleshoot hard drive read errors. As you may already know, read errors are often the first sign of potential hard drive failure, and can lead to major data loss if not addressed in a timely manner.

With Ariolic Disk Scanner, you can perform a raw sector read check of your hard drive, and view the results in the form of a visual representation of your disk. The program offers an easy-to-understand interface that conveniently marks the good and bad clusters on your disk, allowing you to quickly assess the status of your drive at a glance.

Red blocks on the visual representation signify clusters that have read errors, providing you with a clear indication of the problematic areas on your disk. Additionally, Disk Scanner will identify the files that are affected by read errors, enabling you to attempt restoration using file recovery software like Complete File Recovery.

Overall, Disk Scanner is a must-have utility for anyone concerned about the health and performance of their hard drive. It's easy to use, reliable, and free, making it a great choice for both personal and professional use.
What's New
Version 1.5: N/A