Arm Map Explorer is a mapping software that offers the same features as Google Maps, with added capabilities such as showing a map with a coordinate grid, obtaining the precise coordinates of any location, and instantly going to a specified location based on its coordinates.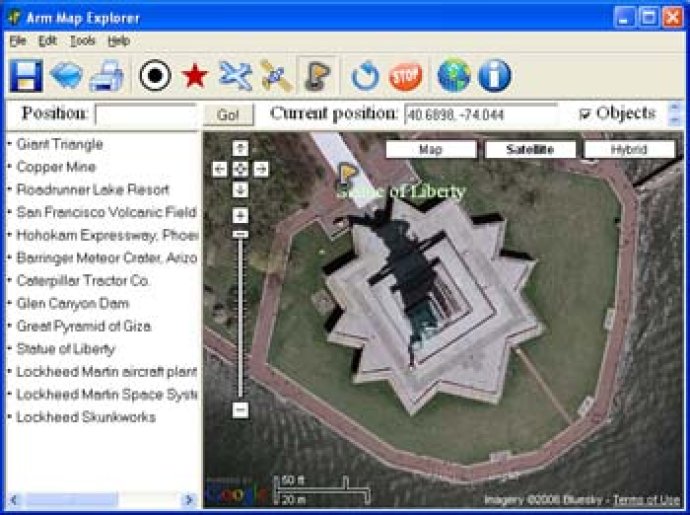 Arm Map Explorer, a desktop software, offers users all the functionalities of Google Maps and provides additional extras to enhance the experience. With dynamic interactive maps, Map Explorer allows users to locate and view any place on the planet. These maps have a draggable feature that eliminates the need for users to repeatedly click and wait for graphic reloads when viewing adjacent parts of a map. Essentially, using Map Explorer to view locations on maps is similar to using a typical street map.

In addition to standard features provided by Google Maps, Map Explorer offers more convenient functions such as viewing a map with a coordinate grid on it, getting precise coordinates of any location on the map, and easily moving to a specific location on a map based on provided coordinates. The software also has an object tree feature that allows users to quickly locate and view capital cities, world landmarks, monuments, international airports, and other objects.

Users can save maps as files or print them on paper for use as regular paper maps while traveling. Map Explorer is an ideal tool for exploring different locations and studying geography, both physical and economic. With the program's satellite view feature, users can see a detailed view of any location, whether it is a hydroelectric station or a city. The zoom and pan functions allow users to adjust the view to their desired level of detail and direction.

Overall, Arm Map Explorer is an excellent choice for anyone needing a powerful desktop mapping software that provides detailed and interactive maps, convenient features, and additional extras that other mapping applications may not offer.
What's New
Version 2.2: The program is now compatible with 64-bit Windows OS.