Artworks database is an ideal software for recording detailed information of artwork collections, including images, provenance, and exhibition history. It's perfect for artists, galleries, collectors, and everyone who needs to organize their collection. Adding artwork to a new catalog takes only a few minutes.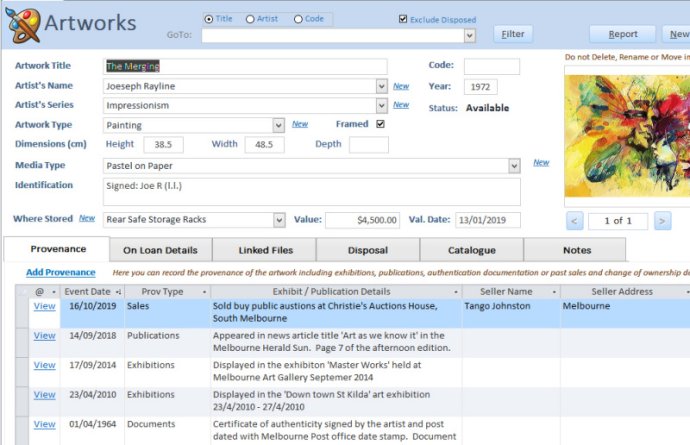 If you're an art collector or gallery owner, the Artworks database is an essential tool for managing and organizing your collection. This software allows you to record detailed information about each artwork, including provenance, exhibition history, and past sale and ownership information, as well as any number of images you want to store.

With the Artworks Database, you can also link any number of documents or other electronic files directly to each artwork record, so you never have to worry about losing or misplacing them again. And if you need to refer to a document, you can open it directly from within the artwork record.

In addition to these basic features, the Artworks database also offers a robust suite of reports that can help you track and report on various aspects of artwork and/or gallery management, including collection value, storage locations, sales, and more. You can even use the database to record information about artworks out on loan or consignment, and receive alerts when they become overdue for return.

One of the best features of the Artworks database, however, is its ability to help you create stunning catalogs of your works in just a few minutes. Once you've finished your catalog, you can attach it to an email and send it out en-masse to your current and prospective clients using the built-in Bulk emailer. Marketing your collection has never been easier.

Perhaps best of all, the Artworks database is a one-time purchase. When you buy a license for the software, it's yours to use for as long as you want with no ongoing subscriptions or monthly fees. With its powerful features, ease of use, and flexible pricing model, the Artworks database is an excellent choice for any art collector or gallery owner looking to get the most out of their collection.
What's New
Version 4.00: The new version incorporates additional reporting, an internal catalog cover creator, and the ability to send personalized emails en mass to clients and prospective clients.