Fireebok Audio Book converts pdf, epub, rtf, html, and txt books to audiobooks in an easy and elegant way. It supports mp3 and aiff formats.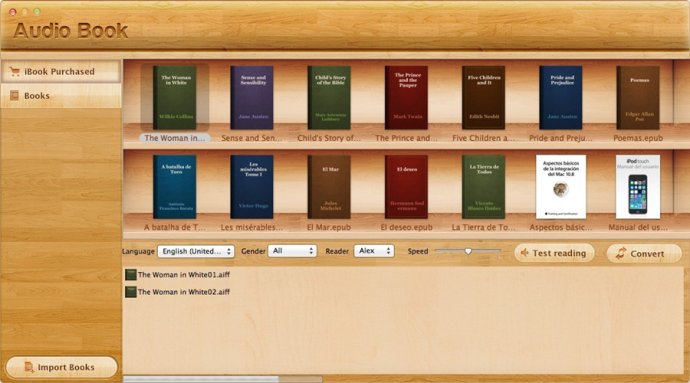 Are you tired of reading eBooks on your Kindle, iPhone, iPod, or MP3 player? Do you prefer listening to audiobooks while doing other tasks? If so, Audio Book is the perfect solution for you. With just a few clicks on your Mac, you can convert any eBooks to audiobooks and enjoy them on your iPhone, Android, or MP3 player.

Audiobooks are becoming increasingly popular as more and more people seek ways to relax and multitask. Rather than sitting down for long hours to read eBooks on various devices, listening to audiobooks can make daily routine tasks more enjoyable. Fireebok Audio Book allows users to convert eBooks to audiobooks and listen to them on their preferred devices.

Audio Book uses clear, natural-sounding voices to generate speech that's easy on the ears and easy to understand. With over 38 languages and 50+ accents available, users can enjoy a wide range of voices to make the experience more enjoyable. Supported input formats include pdf, epub, rtf, txt, and html, while output formats include mp3 and aiff.

From children and students to the elderly, everyone can benefit from Audiobook. Parents can use it to bring life and depth to their children's reading experience. Educators can create teaching materials conveniently while saving time. Elderly people with visual impairments can enjoy audiobooks without the need for reading glasses. With Audio Book, users can create an audiobook in just a few minutes and play it on special playback equipment. Overall, Audio Book is an essential software for anyone who loves audiobooks or needs an alternative to reading.
What's New
Version 1.6.0: Fixed an issue when converting epub books