This software can convert audio formats, grab CD audio, create audio CDs, find album covers, edit audio files, add effects and normalize, fade in and out, amplify, create clips, split files, and include a DJ-style player with fade and speed adjustment.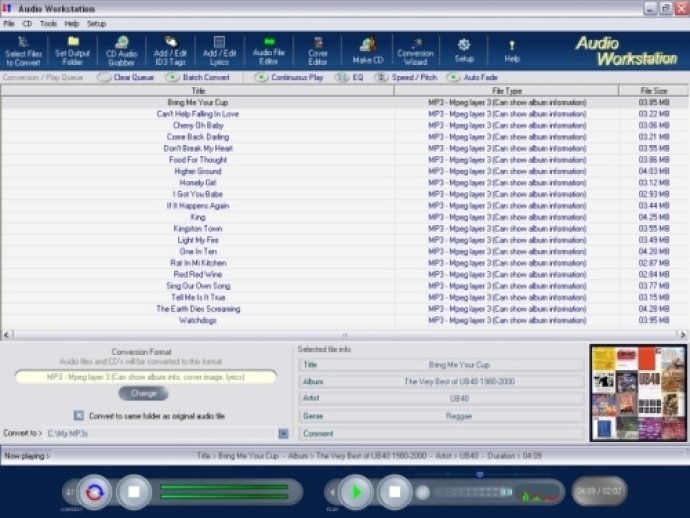 If you're looking for a powerful yet versatile audio editing and conversion software, look no further than this incredible program capable of converting between all audio formats, grab CD audio to any format with a free CDDB album info service, and even find album covers for your CD's and audio files.

This software offers a host of features that make it the perfect tool for all your audio needs. With the ability to create Audio CDs and edit all audio formats, you can add effects, normalize levels, fade in/out, amplify, create clips, and split files with ease.

In addition to these editing tools, this program offers a DJ style player with auto fade and full screen lyrics to help you create the perfect atmosphere for your next party or event. Change and memorize song speed or pitch separately, and control every aspect of your music with a smart ID3 tag editor, lyrics editor, and album cover image editor.

This software is ideal for anyone who works with audio on a daily basis or wants to have more control over their music collection. With support for all formats including MP2, MP3, MP4, M4A, AAC, WMA, OGG, and WAV, it's easy to convert and edit your music in any way you want.

Overall, this software is a must-have for anyone who wants to edit and convert their audio files quickly and easily, with all the features needed to create professional-quality results. Try it out for yourself today and experience the power of this amazing program!
What's New
Version 9.3.5.5.4: N/A
Version 7.8.3.7.6: N/A
Version 7.6.3.7.3: N/A
Version 7.6.3.2.6: N/A
Version 7.4.2.4.3: N/A
Version 6.4.2.4.3: N/A
Version 6.4.2.3.0: N/A
Version 6.4.2.0.0: N/A
Version 6.3.9.0.7: N/A
Version 6.3.9.0.6: N/A