A backup software designed for power-users that utilizes the XCOPY command in Windows command prompt. The package comes with source code, software, PDF, and text tutorials. An additional batch file is included to facilitate the backup process.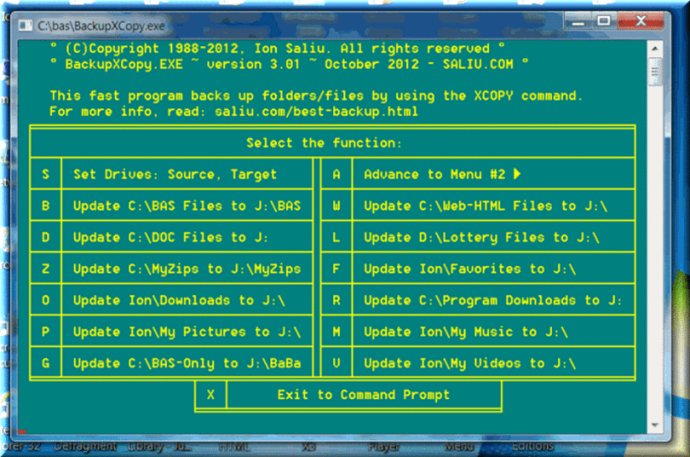 If you're a power-user seeking a reliable and straightforward way to back up your most essential files, look no further than this Backup Software. Utilizing the XCOPY command found in the Windows command prompt, this software package includes the necessary source code, PDF guides, and text tutorials to get you started.

With XCOPY, you have a host of different options via switches on the command line, the most crucial of which is the /D switch. This switch lies at the heart of efficient and straightforward backup processes, enabling you to copy files or entire folders with ease. If the files in question do not yet exist on the Destination for your backup, XCOPY will copy them over. If they have been modified on the source, XCOPY will replace the older versions with the latest. In cases where no files need updating, you'll get a message stating that "0 files copied." And if a folder doesn't yet exist on the Destination, XCOPY will create it for you and copy all necessary files.

To avoid any issues with the "Invalid number of parameters" error that XCOPY can sometimes trigger, the software automatically surrounds directory names with quotation marks. This ensures that you'll have no problems when dealing with folder names that contain blank spaces.

One particular strength of this software is its functionality when it comes to scheduling. With the ability to schedule automatic runs of your backup batch file via the Task Scheduler in Windows, you can choose a time when you won't need to use your PC, and BackupXCopy.BAT can work in the background to keep your files protected.

Overall, this software package is a powerful and reliable solution to your backup needs. It works across all 32 and 64-bit versions of Windows, utilizing the BASIC programming language. If you need to protect your directories and files from loss, it's an excellent choice that you won't regret making.
What's New
Version 3.01: 10/16/2012