This software provides a secure and user-friendly solution for reviewing and converting financial transactions into various formats such as CSV, XLS, and PDF. It also allows for the easy import of data into accounting software such as Quicken, making it a convenient tool for managing financial data.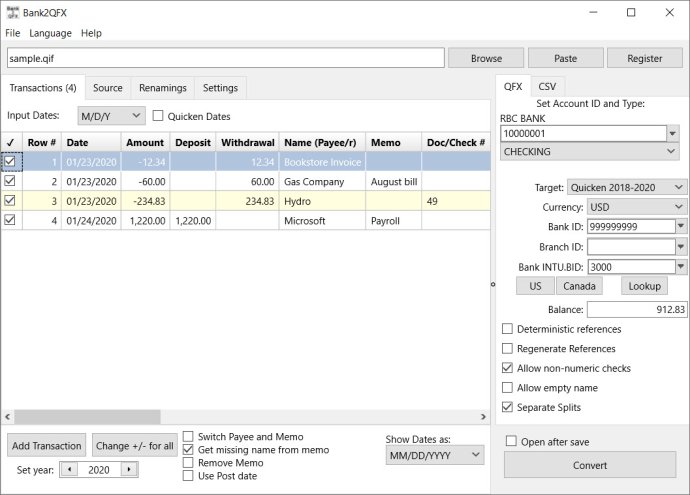 If you're looking for a hassle-free way to import all of your transactions into Quicken, you might want to check out this solution. With this software, you can convert several different file formats, including CSV, XLS, XLSX, PDF, QFX, OFX, QBO, QIF, MT940, and STA into QFX files, which are regular Web Connect files for Quicken.

This saves you time from manually entering each transaction, and it helps you avoid costly data entry errors. Additionally, you can review all of your transactions once they're imported, just as you would if you downloaded them directly from your bank.

But that's not all. This software also allows you to review transactions in a readable view before converting them into QFX files, so you can make sure everything looks correct before importing.

And if you're tentative about purchasing before trying it out first, you can get a free trial that allows you to convert up to 10 transactions per file. If you want to purchase the full version, support is available both before and after purchase.

In fact, you can buy with confidence because there's even a money-back guarantee provided for 14 days. Overall, this software is definitely worth considering if you want to save time and avoid manual data entry errors when importing transactions into Quicken.
What's New
Version 4.0.165: Maintenance release