This software can generate and personalize barcode images with various sizes, font and background colors. It comes with printing capability and compatible with all Windows systems.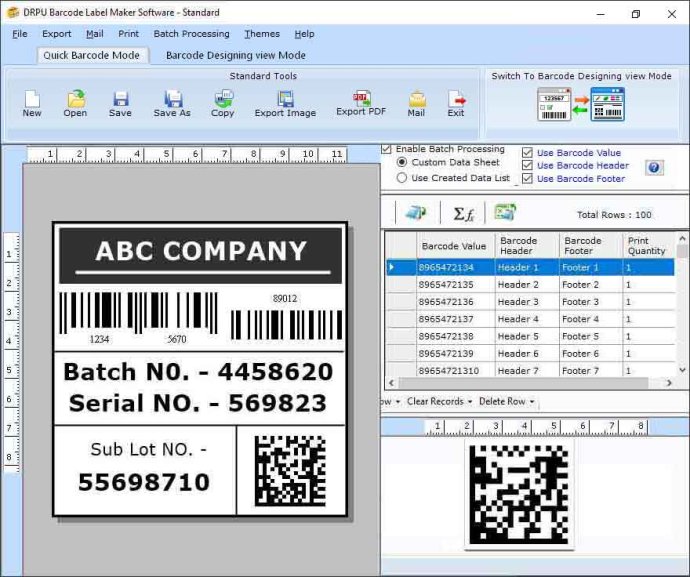 The automatic bar code maker application is a must-have tool for any organization or industry looking to produce high-quality, customized barcodes labels. It offers a range of features, such as the ability to modify barcode color, text size, and style, and provides permission to resize and align the generated barcode string.

Barcode imaging software is a reliable and efficient way to create highly customized barcode labels, CD labels, identity cards, diskette labels, return address labels, and more. The free barcode maker tool is incredibly versatile, allowing users to design and produce high-resolution barcode labels that can be easily printed using Thermal and Barcode Printers, as well as Normal Printers.

The barcode creation utility is equipped to handle all font standards, making it easy to create all types of barcodes including Codabar, Code 39, Code 11, Code 93, POSTNET, UPCA, UPCE, PLANET UCC128, CODE128, EAN13, EAN8, IND25, Interleaved 2of5, and MSI PLESSEY, among others.

Additionally, the 1D barcode image builder tool can print bulk barcode labels together with the help of normal printers, making the process faster and more efficient.

The barcode maker utility is compatible with all Windows operating systems, including XP, 98, NT, ME, 2000, 2003 server, and Windows Vista. It also allows users to save all produced images in several graphic file formats.

Its features include professional barcode label maker utility, which provides users with the ability to generate barcode images unique to their preferences by allowing them to change shape, sizes, as well as background colors. It can also reduce manual data entry workload for various product packaging organizations, print selected single or bulk of images with the help of a printer.

The barcode creator application is available with a help manual, making it easy for users to access and use. In conclusion, the automatic barcode maker application is an essential software tool that can help any business, no matter how big or small, to produce high-quality, customized barcode labels with ease.
What's New
Version 8.0.1.7: Added support for various popular barcode fonts.