This software creates barcodes in code39, code11, Codabar, code128 and interleaved 2of5 barcode formats. It includes symbols such as numbers, uppercase letters, and special characters like %, *, $, /, and ~.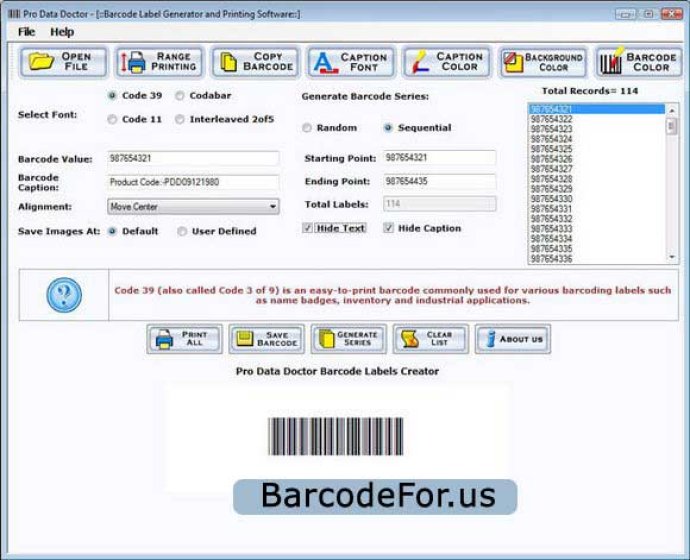 If you're in need of a reliable and efficient solution for generating barcode labels, then you should certainly check out the Barcode and Labeling Software. This software tool provides a fast, quick and easy way to generate high-quality barcode labels with colorful designs and printable versions.

One of the key features of the Barcode Image Generation utility is its cost-effectiveness. It can create labels, stickers, ribbons and asset tags in a very short period of time. Moreover, this software allows users to create barcode image formats in GIF, JPEG, and BMP, providing the flexibility to tailor barcode label designs to your business requirements.

Barcode and Labeling software is an ideal solution for creating standard barcodes for organizations both big and small, ranging from transportation, insurance, pharmaceuticals, logistics, accounting, financial services, manufacturing, distributors, retailers, phone companies, medical organizations, government agencies, and healthcare agencies.

This Barcode Label Generation software allows users to change the existing barcode, including text, size, font and page settings according to their needs. Additionally, it allows for creating new barcodes with ease. The software supports major barcode formats such as Codabar, Code 39, Code 11, Code 128 and Interleaved 2of5 barcode standards, which are perfect for generating professional-looking barcode labels.

The software features a user-friendly GUI facility, allowing it to be easily operated by both technical and non-technical users. Moreover, the tool is designed and developed on the Windows platform and successfully runs on all versions of the Windows operating system.

One of the key advantages of the Barcode Label Maker is its ability to generate high-quality versatile barcode label images in a fast, quick and easy way. Moreover, it can facilitate users to create new barcodes and also allows users to change the existing ones. The software produces high-quality printable and scannable barcode image files, which are perfect for businesses that demand efficiency and precision in their inventory tracking and management.

In conclusion, Barcode and Labeling Software is a great tool that provides a comprehensive solution to your barcode labeling needs. Its user-friendly interface, flexibility, and compatibility with different barcode formats make it a great tool for both small and large businesses.
What's New
Version 3.0.1.5: Added support for all major barcode formats