This Barcode DLL simplifies barcode generation, printing, and creation in C/C++/VB/PHP/Delphi applications. Over 100 linear and 2D barcodes are available, with high-quality output and compatibility with x32 and x64. No specialized barcode expertise is needed.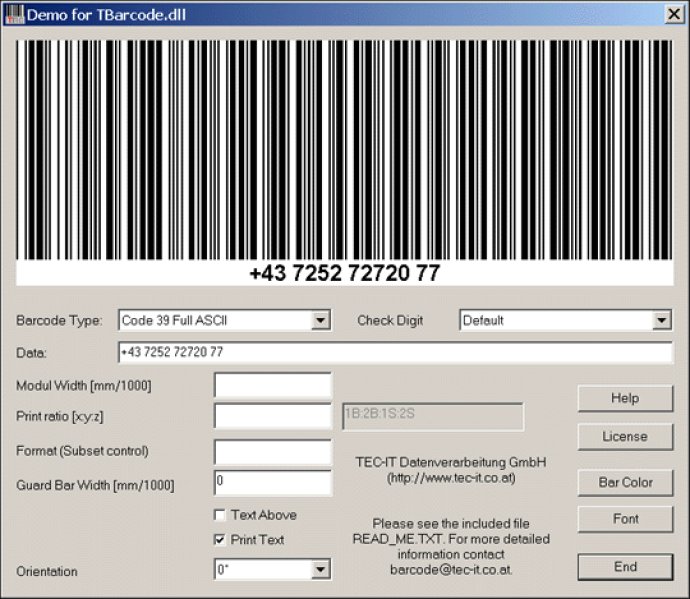 TBarCode DLL is an excellent barcode generator for developers. It is easy to use while providing advanced functionalities that enable developers to create, generate, and print over 100 different linear and 2D barcode symbologies. TBarCode DLL is a user-friendly solution for developers who need to integrate barcode generation into their projects without the need for costly barcode printers, barcode fonts or other barcode extensions.

The barcode generator supports various linear barcodes such as EAN 13, Code128, EAN 128, 2 of 5, UPC, and 2D barcodes with high data density such as PDF417, MicroPDF, DataMatrix, QR-Code, Aztec, MaxiCode, GS1, and Semacode. Moreover, TBarCode DLL also offers support for new GS1 composite codes.

Developers can simply integrate the DLL into their projects and print or export the required bar codes. The fine-grained barcode control enables developers to adjust all relevant barcode parameters easily. The barcode generator also offers multiple output formats such as printing, image export, PostScript, PCL, PDF, and call-backs.

TBarCode DLL is not limited to specific programming languages; it can be used with almost all programming languages such as C/C++, PHP, Delphi, and more. The Barcode DLL generates barcodes in a completely printer-independent way, which makes it compatible with all devices. Moreover, developers can take advantage of the call-back functions for custom drawing functionality.

In addition to being available on Windows (32 bit/64 bit), TBarCode DLL is also available for Linux, UNIX, and Mac OS. It provides 100% standard compliance in ECI, check-digits, data compression, Asian character sets, UNICODE encoding, macro barcodes, and more. The barcode generator is an ideal solution for software developers who need to create, generate, and print barcodes effortlessly.
What's New
Version 11.10.2: New in TBarCode 11: Han Xin Code, Dotcode, USPS Intelligent Mail Package Code, Swedish Postal Shipment Code, Improved PDF output. Please find more update details in the version history!