Crystal Reports Barcode Generator is a tool that generates barcodes from the data given in Crystal Reports. It is a self-contained object and doesn't need additional fonts or components to function, simplifying the process of creating and distributing reports.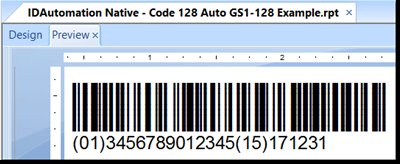 I recently tested the Barcode Generator for Crystal Reports and found it to be a highly effective software that can help users create barcode images quickly and easily. The tool is a native object that can be directly inserted into a report to generate barcode images without using any barcode fonts or other components.

Once the object is installed in a report, it can generate barcode images for a wide range of symbologies, even when the report is distributed externally to recipients. The Barcode Generator for Crystal Reports is compatible with Crystal Reports versions 9 and above, as well as with all languages and locales, including Double Byte versions of Windows used in countries like China and Japan.

Another great feature of this software is that it allows users to encode functions into barcodes, such as returns and tabs, which can be output into multiple fields on scanning. The tool is available in multiple versions to support different types of barcode generations. The Linear version supports Code 39, Code 128, Interleaved 2 of 5, Intelligent Mail, and others. Meanwhile, the 2D version supports Aztec, Data Matrix, DotCode, PDF417 and QR Code, and other individual versions that support DataBar and other individual barcode symbologies.

The pricing of the Barcode Generator for Crystal Reports varies according to the product version and the type of license required for your usage scenario. IDAutomation offers Single and Multi-user licenses as well as Developer License versions that are more suitable for commercial use, use in ERP/server environments, or while bundling with custom applications meant for distribution. The Developer License versions also include complete source code.

In addition, the software comes with several additional feature points. For instance, QR Code supports the Swiss QR-Bill and Image Overlay as a Center Override. UTF-8 encoding is supported for Aztec, Data Matrix, PDF417, and QR Code. The Data Matrix also includes a better algorithm that encodes data more efficiently into a smaller symbol and is 4x faster than previous versions for barcode generation.

Overall, the Barcode Generator for Crystal Reports is an excellent software tool that can transform your barcode generation experience. If you're interested in trying it out, you can download a free static demo for testing prior to purchase.
What's New
Version 2023: The latest version includes Crystal Reports Barcode algorithm updates to encode UTF-8 and performance improvements.
Version 21.07: Latest version 21.07 includes algorithm changes that encode data more efficiently and at significantly faster generation performance.