This barcode software is compatible with various versions of Windows, including Win 98, XP, 2000, 2003, ME, NT, and some Vista versions. It works with standard printers that support colored image files.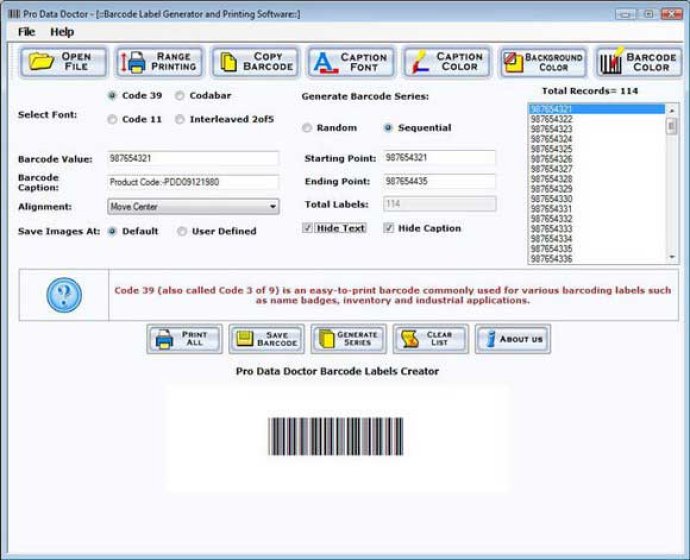 The Barcode software for labels is a powerful tool that generates barcode labels with a printable version that is compatible with normal printers. The software has been designed to require no extra effort to handle it, with a user-friendly interface that ensures smooth operation.

To assist users with using the software, user manuals and guides are included that detail step-by-step instructions, making it easy for even novice users or non-technical persons to operate. The software supports a wide range of barcode fonts, including Codabar, Code 39, Code 93, Code 11, MSI Plessey, and Interleaved 2 of 5, among others.

The barcode software provides colorful barcode labels with a printable version that is compatible with both normal printers and barcode printers, with flexible page and font settings. The software has been designed to fulfill the demands and needs of today's highly competitive market.

Barcode symbologies support various symbol sets, including the code 3/9 character set that consists of barcode symbols representing uppercase letters (A-Z), numbers (0-9), and some special characters, such as $, ., /, +, -, and ~ characters, where the tilde character (~) is used for space.

Barcode generation software is based on the Windows operating system, offering support for the most latest and currently used versions of Windows such as Win XP and some versions of Window Vista. The software creates barcode labels that can be used for inventory management, financial services, healthcare agencies, shelf labeling, and warehousing, among many other applications.

The Barcode software offers various features, including fulfilling most of the highly demanding requirements of today's market, providing user manuals and guides for users, online help support, being Windows-based, providing the best and alternative way for manual data entry, and handling all the datasheets. It is an easy-to-use software that requires no extra efforts, making barcode label generation a convenient and hassle-free process.
What's New
Version 3.0.1.5: Added support to all major barcode fonts sybmbology