This software creates barcode labels to track items and their information for retailers. It aids in maintaining product quality for customer transactions.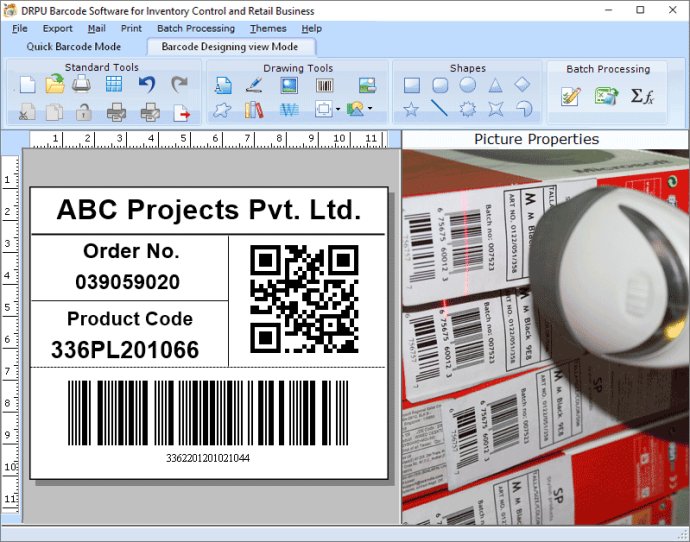 If you're looking for a powerful Barcode Labeling Software for Retail, look no further! This software is designed to create barcode labels that can be quickly applied to products, making it easy to identify them in a retail setting. With a barcode label generator that can print colorful barcode images, tags, stickers, and more, this software is perfect for use in retail stores, warehouses, and for accounting purposes.

One of the best things about this software is that it uses MS-Excel and MS-Word to copy and paste barcode images at a particular location, making it easy to use and highly convenient. This software also supports the use of 2D barcode standards, which can be used for tracking inventory information in the retail and business industries.

Another great feature of this Barcode Labeling Software for Retail is its inventory control management, which helps reduce the risk of error and ensures that your inventory is always accurate. To design your inventory label, you simply need to follow a few simple steps.

First, you'll need to download and install the software onto your computer. Then, you'll need to use standardized barcode fonts, which the software provides the option for choosing to meet your specific requirements. The software supports two types of font standards, including Coda Bar, Code 11, industrial 2 of 5, EAN-13, Data Matrix, and many more.

Next, you can create batch series through the use of the Windows application, which makes it easy to create and print multiple labels for your business labeling needs. The software also allows general printers to print your designer labels as per your needs, with advance printing options for high-quality barcodes.

You can even add images to your labels using the image browse option, which lets you select images according to your requirements. Finally, you simply need to click the save button to see your print preview. The software provides a preview of your barcode at the same time, and you can even export your barcode as an image or PDF.

In addition to all of these great features, this Barcode Labeling Software for Retail is also incredibly easy to use. It prints scanable barcode images, saves generated barcode labels in numerous file formats, facilitates batch series for creating mass numbers of labels, and includes an email setting feature to share your labels with other users via email.

Overall, if you're looking for a reliable and easy-to-use Barcode Labeling Software for Retail, this software is definitely worth considering. With its powerful features, ease of use, and flexibility, it's an excellent choice for anyone looking to create high-quality and accurate barcode labels for their business needs.
What's New
Version 9.2.3.2: Added Support for Latest Windows 11 OS Updates. Added Support for High DPI resolutions Compatibility. Added new Barcode Technologies. Added additional Batch Processing Features to import Data from Excel Sheets.