Transform your PC into a virtual basketball scoreboard with our software. Ideal for scorekeeping basketball games in any facility, our scoreboard download provides a hassle-free solution utilizing your existing computer and display.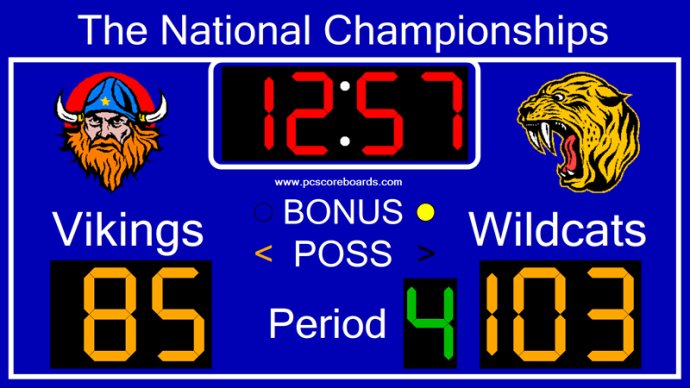 Basketball Scoreboard Standard is a powerful software that can transform any TV + computer setup into a full professional basketball scoreboard. This easy-to-use and cost-effective solution includes a variety of features that will get your audience engaged in the game. Whether you're running a small school tournament or a big stadium event, this software will help you scorekeep efficiently and effectively.

One of the main advantages of this setup is that PC Scoreboards are more versatile and less expensive to maintain compared to traditional physical scoreboards. With this solution, you can use different scoreboards for sport-specific functionality while reusing the same display for multiple sports. Plus, you can customize your scoreboard with team names, logos, colors, and more, making it easy to switch between different games as needed.

The software comes with a host of features, from basic scoring and timekeeping to sport-specific options for different levels of competition. Included in the package are a game clock, timeout control, score tracking, team names, logos, period/half management, additional picture/video players, and much more.

Controlling the scoreboard is effortlessly done via an intuitive Control Screen that is a separate window visible only to the operator. This screen is equipped with buttons and number entry fields to quickly adjust the score, start/stop the game clock, and sound the buzzer with error-free precision.

Another useful feature is the optional web remote, which allows you to control all information on the scoreboard from any device with an internet connection. Whether you're using an iPad, iPhone, iPod, tablet, smart phone, or netbook, you can easily control the scoreboard and make adjustments on the fly.

Overall, Basketball Scoreboard Standard is a great solution for any basketball event that requires precise scorekeeping and a professional-looking scoreboard. Best of all, it's free to try, so head over to www.pcscoreboards.com and download your copy today.
What's New
Version 2.1.1: Minor fixes.
Version 2.1.0: Add capability to display 3 pre-selected videos from within the scoreboard.
Version 2.0.9: Improved Control Screen. Various fixes. Clock display now display local aware format. Install now works on PCs without dot net framework installed.