Batch Rename Pro renames multiple files and folders using ordered tasks, saving projects for future use. A convenient solution for bulk file renaming.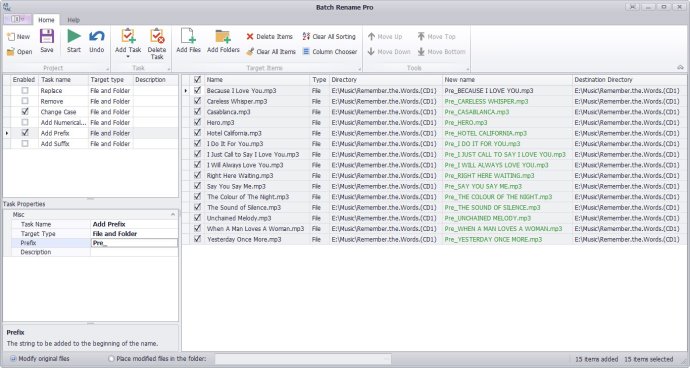 Batch Rename Pro is a software that allows users to easily rename a large number of files and folders at one time. The program operates using one or more ordered tasks, with a project capable of containing multiple tasks. Enabled tasks are executed in sequence, starting from the first task and ending with the last.

Users have the option of saving their project as a file for future use, which can be helpful for those who have a lot of files to rename on a regular basis. Additionally, Batch Rename Pro features an undo function in case any changes are made in error.

The software includes a variety of features designed to make renaming files and folders as efficient as possible. Users can specify the target type of task, including choosing between renaming files, folders, or both. The software also supports adding prefixes and suffixes, as well as removing characters from the beginning or end of a name.

Users are able to change the case of a name, and can replace or remove specific strings. Additionally, Batch Rename Pro enables users to replace names with a serial number, as well as add prefixes or suffixes with a serial number. The software can also insert a string to a specified position in the name or change a file extension.

Overall, Batch Rename Pro is an excellent solution for those who need to rename a large number of files and folders regularly. Its intuitive interface and powerful features make it easy to use, while its ability to save projects for future use ensures users are able to easily manage their renaming tasks over time.
What's New
Version 3.3.0: skin is available