Dux offers a reliable excel password recovery software that supports all versions of Excel files including 97, 98, 2000, 2003, 2007, 2010, 2013, 2016 and 2019. Recover lost passwords and gain access to your excel files with ease.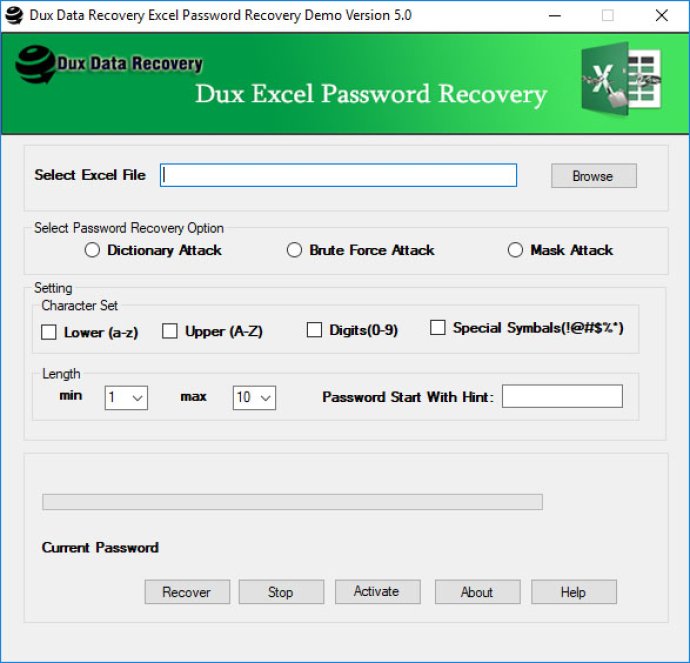 Excel password protection is a common practice among users, but sometimes they forget the passwords set by them. This can cause frustration when trying to open the file, but being unable to unlock the password. Dux has created the best excel password recovery tool that is powerful enough to recover your locked file and return it to you safely.

In addition to being the best excel password recovery tool, Dux software also provides an Excel password remover online, the best excel file password recovery tool, and the best Microsoft excel password recovery tool. Dux software also offers a demo version that can recover the first two characters of your excel password at no cost.

Dux's best excel password recovery tool uses brute force attack, mask attack, and dictionary attack methods to reset your excel password. Additionally, software support all versions of MS excel from 97 to 2016.

Dux Excel Password Recovery software is a professional program designed to recover your lost excel file passwords, including those with complex combinations, such as (0-7-!-#-*-A-B-C-xn). You can confidently purchase Dux tools, as we promise 100% customer satisfaction and offer a 30-day money-back guarantee on all our software.
What's New
Version 5.0: Download Best excel password recovery tool that really effective for reset lost excel file password