BitRaser File Eraser is a reliable software for permanent and secure data deletion from PCs and external storage media. It removes sensitive files, deleted files, web browsing history, and system traces. The software ensures data protection from unauthorized access.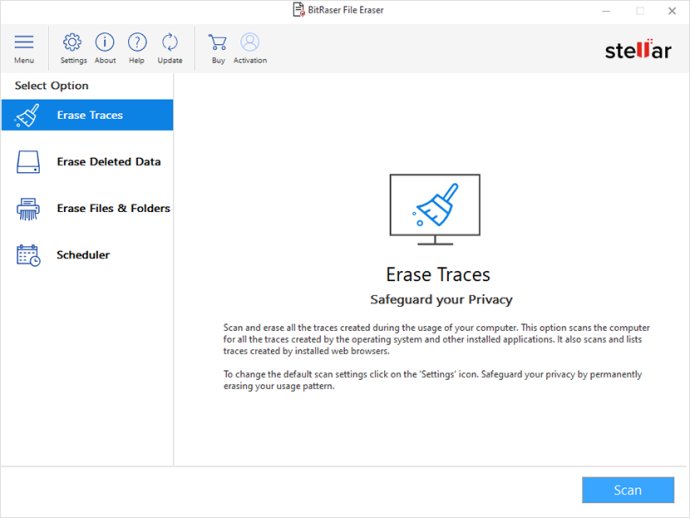 If you are looking for a powerful software tool to erase sensitive files and folders stored on Windows devices, BitRaser File Eraser is an excellent choice. The tool supports popular brands such as ASUS, Samsung, Lenovo, and Dell, among others, making it easy to use on various systems.

With BitRaser File Eraser, you can erase files from external hard drives, USB pen drives, SD cards, and server storage. The software can remove personal files such as tax records, social security numbers, personal health records, credit card statements, photos, videos, official documents, and more. This feature makes it perfect for safeguarding sensitive information, especially when sharing your PC, handing it over for an upgrade/repair, exchanging it, or selling it off.

But that's not all - BitRaser File Eraser can also erase web search and browsing history, along with all traces of internet activities such as cookies, temporary files, favorites, and autocomplete data for forms and passwords. The software can wipe internet usage history across all leading browsers such as Chrome, Mozilla, Safari, IE, Microsoft Edge, Opera, and SeaMonkey.

Moreover, the software can remove app traces such as activity logs, preferences, and personal information generated while using apps like News, Instant Messengers, Email Apps, Peer-to-Peer Apps, and more. Additionally, it removes temporary files accumulating on your computer with regular use to free up storage space and improve system performance.

Perhaps the most noteworthy feature of BitRaser File Eraser is its ability to erase deleted files and folders from drives and partitions, ensuring their permanent removal. This feature safeguards your sensitive information from recovery and misuse using tools that can retrieve files emptied from the Recycle Bin or permanently deleted using SHIFT + DEL keys.

Finally, the file wiping tool allows you to search for specific files stored on your computer hard drive, folders, and subfolders. It can even find a specific file by using its extension, which is helpful when you don't remember the file name. Overall, BitRaser File Eraser is a reliable, secure, and efficient tool to erase sensitive data from your Windows device.
What's New
Version 5.0.0.4: Support of Updated Software provided
In case no files are found while doing search, a dialog will prompt.
Version 5.0.0.2: N/A