This software converts Excel contacts into vCard files with complete information, including entries from all rows and columns, and supports both XLS and XLSX file formats.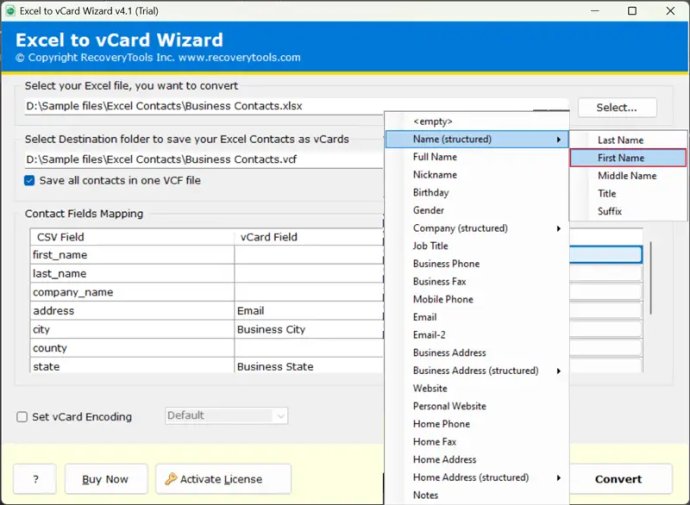 If you're looking for an easy and efficient way to convert your Excel files to VCF format, we highly recommend BitRecover Excel to vCard Converter. This software supports both XLS and XLSX Excel Workbook files and creates a standard vCard contact file that can be used with a variety of programs and devices, including Google, Microsoft, Smartphones, Computers, Yahoo Mail, Email Clients, and more.

One of the best things about this software is its easy-to-use interface. With a single panel design and intuitive layout, it's a breeze to use even for users who are not tech-savvy. Simply click on the Select button to add your Excel contact file, then choose the Save As option to set a destination path for the resulting vCard files.

One of the most useful features of this Excel Contacts to VCF Converter is its ability to create both single and combined VCF files. With the "Save all contacts in one VCF file" option enabled, you can store all your Excel contacts in one convenient vCard. If you prefer, you can leave this option unchecked to generate a separate VCF file for each contact.

Another great feature of BitRecover Excel to vCard Converter is its intelligent field mapping system. This software automatically matches Excel contact fields with vCard fields, but you can also specify which fields you want to include using the Select button. Plus, the contacts field mapping option allows you to change the mapping of certain fields, such as changing the "Name" column in Excel Contacts to First Name, Last Name, Middle Name, Title, and Suffix in vCard.

Finally, this software also includes an isolated option to set vCard encoding, which is especially useful if you're working with applications or devices that support specific encoding for vCard files. You can choose from Default, ASCII, UTF-8, Unicode, UTF-32, and UTF-7.

Overall, we highly recommend BitRecover Excel to vCard Converter for its ease of use, intelligent field mapping system, and flexible vCard file export options. This software supports XLS or XLSX files created with Microsoft Excel 2021, 2019, 2016, 2013, 2010, 2007, 2003, 2002, and previous versions, making it a versatile solution for users at all levels.
What's New
Version 4.1: N/A