vCard Duplicate Remover removes duplicate clutter in vCard files. It works with vCard contacts from any device or CRM program. A useful solution for keeping your contacts organized.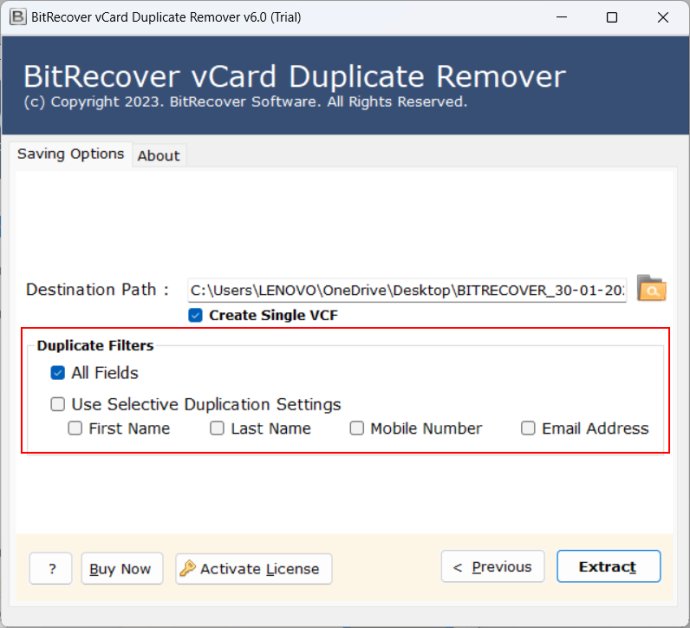 As a highly recommended solution to remove duplicates from VCF files, BitRecover vCard Duplicate Remover boasts numerous advanced features. The tool is compatible with vCard contacts exported from an array of sources, including computers, Android and iPhone devices, iCloud, iPad, Google Contacts, Yahoo Mail, Salesforce, HubSpot, and more.

One of the standout features of this software is its offline functionality. As experts caution against using online tools that could potentially compromise data security, BitRecover has developed an offline tool that works without internet connectivity.

Users can choose between two options for adding multiple vCard contacts: Select Files or Select Folders. Once the contacts are added to the software panel, users can specify which vCard files to target for duplicate removal. They can also select a specific destination path to store the clean, de-duplicated contacts.

With the option to enable the "Create Single VCF" feature, users can generate a single vCard file instead of having duplicate-free contacts spread across multiple files. An external storage device can also be connected to the computer for easy storage of processed contacts.

Notably, the vCard Duplicate Remover offers various Duplicate Filter options to choose from. Users can enable the "All Fields" option to remove duplicates based on a match in any field. Alternatively, they can choose to match by specified fields like First Name, Last Name, Mobile Number, and Email Address.

After the process to remove duplicate contacts from a VCF file is complete, the software automatically generates a SavingLog.txt report file. This file contains detailed information about the processed data, including the Start Date and Time, Source Path, Destination Path, Duplicates Found, Extracted Contacts, and Status.

Overall, the BitRecover vCard Duplicate Remover is a powerful tool that offers a range of features to effectively manage vCard contacts and reduce clutter caused by duplicates.
What's New
Version 6.0: N/A