Blocker Plains is a reaction-based game with a movable blocker and an unlimited number of balls along with 50 stone plains. With seven interesting sound themes and changing backgrounds, it offers a fun experience. It has six levels, and players can enjoy the game endlessly.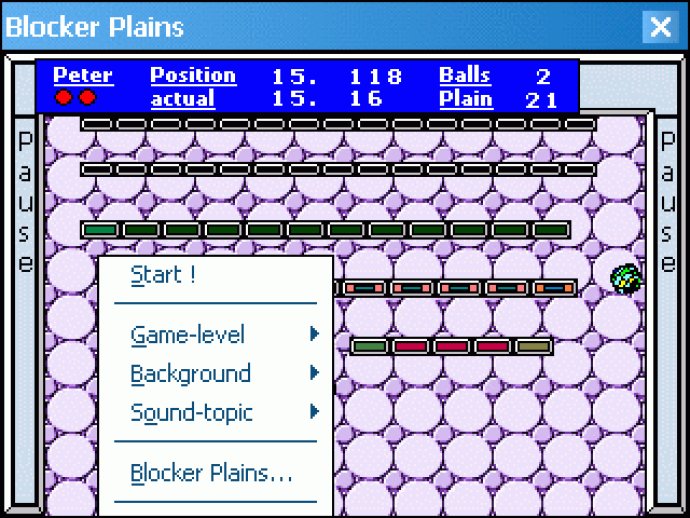 Blocker Plains is an enjoyable Breakout game that provides players with six different levels, ranging from very easy to very difficult, and an unlimited number of balls. The game also features 50 stone plains and a freely movable Blocker. With the objective of clearing away the stone plains as quickly as possible, players can obtain a spot on the Champions list.

Players can enjoy seven game-accompanied sound themes and backgrounds that continually change, providing a varied and exciting experience. Additionally, the Blocker size, ball speed and size, as well as the ball gravity, change variably throughout the game levels, increasing the challenge as players progress.

Blocker Plains can be enjoyed by up to six players simultaneously. However, Windows CE devices may require testing with a test-version beforehand as Blocker Plains is offered for different processors that may not be compatible with all devices. Overall, Blocker Plains is a great addition to any Breakout game enthusiast's collection.
What's New
Version 3.3: Six game levels through which the Blocker-size, the size and speed of the balls and the ball-gravity are changed variably.