This SMS Sending Application allows users to send business-related text messages to multiple contacts simultaneously. It supports exporting the contact numbers and messages in Excel format for future use.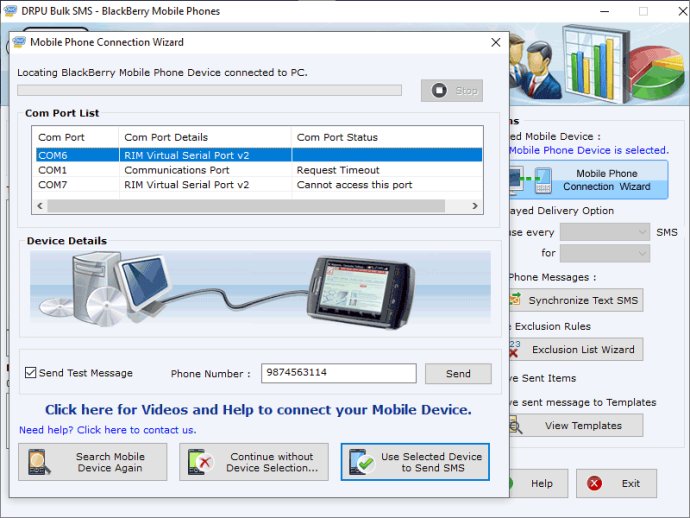 The Blackberry Mobile Phone SMS Messaging Tool is a software that assists businesses in increasing their sales and earnings by marketing their products and services through text messages. The tool operates in 8 steps which are outlined below.

Step 1 entails importing contacts into the software from various sources such as text files, excel files, or by adding numbers manually. In Step 2, the user is allowed to import contact numbers through an excel sheet and create personalized dynamic messages based on the file's contents.

Step 3 provides multiple options for updating messages. The user can update selected messages or apply a new message to all list items.

Step 4 allows the user to skip duplicate number entries automatically during the message-sending process. Step 5 addresses the load of the SMS broadcasting process by including the Delayed Delivery option which pauses multiple SMS for a specific amount of time.

Step 6 provides the user with an option to prevent certain contacts from receiving text messages by excluding them with the help of the exclusion list wizard option. In Step 7, the user can forward sent messages to other contacts without modifying it by saving it as a template.

Finally, in Step 8, the user can initiate the SMS sending process by clicking on the send option. The software's features include the ability to forward bulk text messages via Blackberry mobile phones connected with PC, the ability to communicate with family, friends, and customers through text messages, the ability to send bulk text messages without any technical knowledge, and the ability to send bulk text messages in the form of job alerts, business news, notifications, and more. Overall, the Blackberry Mobile Phone SMS Messaging Tool is a useful tool for businesses seeking to increase their sales and earnings through effective marketing.
What's New
Version 9.3.2.6: Added Support for Latest Windows 11 OS Updates. Added Support for High DPI resolutions Compatibility. Added new Bulk Text Messaging Technology. Added additional Features to import contacts or messages from Excel Sheets.