CalcTape software visually organizes complex calculations, allowing for easy generation and adjustment of intermediate results and operations. Ideal for extensive computations, calculations remain structured and clear.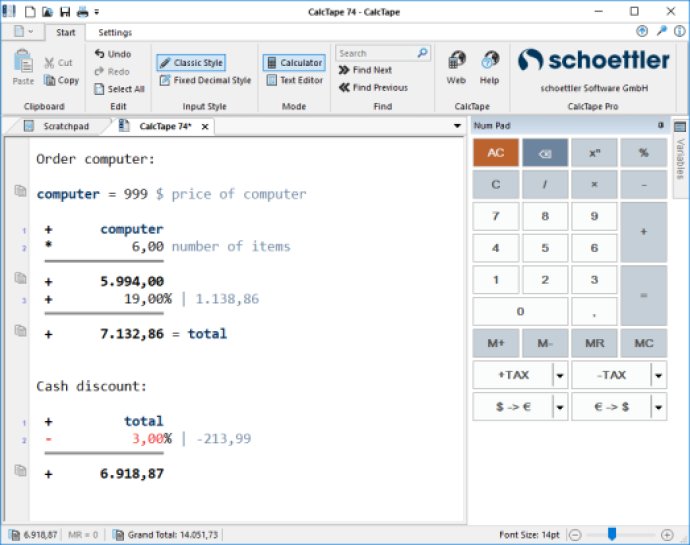 CalcTape by schoettler is an innovative pocket calculator that offers a fresh take on arithmetic processes. With its technology, even extensive calculations are displayed in an organized manner, allowing users to generate interim results and edit operations and numbers as needed.

Users can enter a multitude of calculation terms in a single go and still retain an overview, much like on an adding machine or desktop calculator. Additionally, CalcTape refreshes the whole calculation automatically when any term is adjusted after inputting.

One of the features that set CalcTape apart is the ability to use interim results to check and organize calculation processes. Users can also structure their calculations by commenting on specific terms, adding sense and context to the entire process.

CalcTape files can be saved for future use or as templates for similar calculations that require different scenarios. The programmable buttons enable fast TAX calculations.

CalcTape is adept at handling the four basic arithmetic operations, exponentials, and percentage calculations. It is compatible with Windows Vista, Windows 7, Windows 8 or Windows 10.

In summary, CalcTape by schoettler is the go-to software for those looking for a well-organized, user-friendly and efficient pocket calculator tool.
What's New
Version 6.0.3: - option to start with empty scratchpad
- updated Italian translation
- extra-large buttons for HDPI screens
- better white-space handling when copying e.g. from HTML-mails
- some minor bug-fixes