CallbackDisk provides a component to create and handle virtual disks in software applications that appear as real disks on Windows. It allows easy management of virtual disks and visibility for all system processes.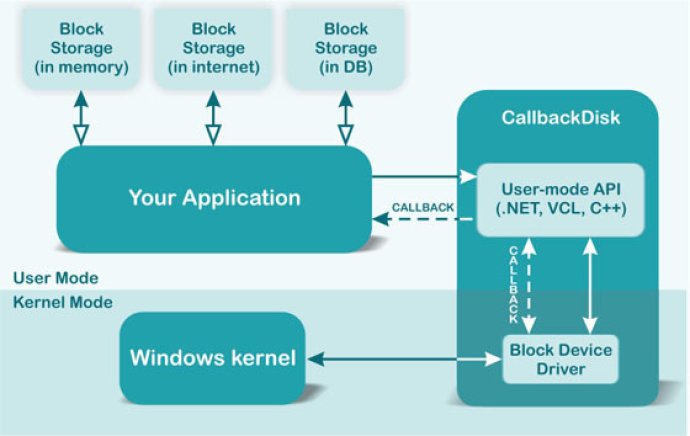 CallbackDisk component is a great tool for developers who want to create and manage virtual disk devices within their software applications. When using this tool, your virtual disks are exposed to Windows and are viewed as real disk devices by all processes in the system.

A virtual disk is a file system that doesn't physically exist on a disk partition. Instead, its storage can be located in a file on a local disk, in application resources, in memory, or even somewhere remote. What matters most is that this disk is viewed by users and applications as if it were a properly formatted hard disk partition.

With CallbackDisk, you get a kernel-mode driver that calls your application when it needs to read or write to the disk. This means that you can store the actual disk data anywhere it's convenient, including in memory or over the internet. A virtual disk is often a necessary solution when your application stores information internally, but still requires access to a system-wide file system.

For example, applications that use DirectX libraries or Flash player may need to create virtual disks to access the data they need. Additionally, some applications require a hidden disk that is still available to other programs. CallbackDisk takes care of all these issues by providing a flexible and easy-to-use tool for managing virtual disks.
What's New
Version 3.1: Windows 10 support
Visual Studio 2015 and .NET 4.6 support
Embarcadero RAD Studio 10 Seattle support
Version 3.0: Windows 8 and Windows 2012 Server support.
Version 2.0: N/A
Version 1.08: N/A
Version 1.0: N/A