This software allows users to monitor the health of their Windows Server through a centralized dashboard, displaying CPU, memory, disk and network usage. Top CPU processes can be identified and DNS/DHCP status can also be viewed.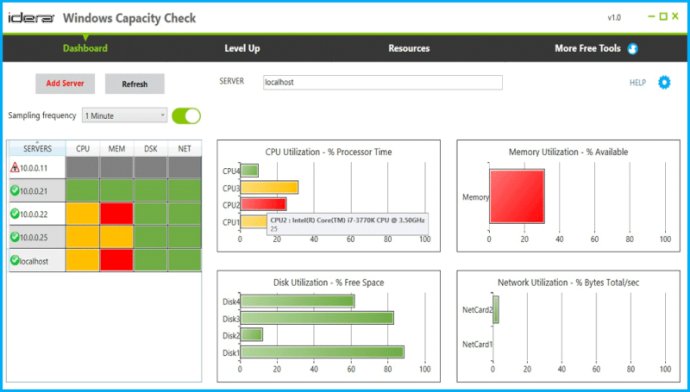 If you're seeking an effective way to monitor capacity levels across multiple Windows servers, the Monitor Windows Server Capacity software may be just what you need. This program allows you to track CPU, memory, disk, and network utilization on up to ten servers using a simple heat map view, quickly highlighting any capacity issues via color-coding indicators.

Monitoring capacity is a vital component of maintaining a healthy Windows Server environment. The software provides a single dashboard that displays key capacity indicators, allowing you to assess capacity and adjust server workloads swiftly. By viewing the utilization of CPU, memory, disk, and network resources, you can quickly identify over-utilization issues and balance the workload on under-utilized servers to ensure optimized performance. You can also view server capacity over a period of time to map trends and pinpoint potential capacity-saving solutions or identify areas that require additional capacity.

When it comes to assessing server components, the heat map view provides an easy-to-understand visual representation of potential capacity issues on each server. With color-coded resource utilization indicators clearly visible, you can assess server and resource capacity with ease. Moreover, selecting individual servers provides specific data on CPU, disk, or network interface deployment, allowing you to target specific areas for boosting efficiency.

Finally, the installation of the Monitor Windows Server Capacity software is indeed straightforward and does not require an agent that might impact performance. You can install and set up the program in minutes to begin monitoring server capacity from a centralized location. So, if you're looking for a reliable, user-friendly way to monitor Windows Server capacity across multiple servers, look no further than Monitor Windows Server Capacity.
What's New
Version 1.0.12: This is a new product