CD Label Designer is software that enables users to effortlessly design and print CD/DVD labels for jewel cases. Features include support for images, text, shapes, and circled text. The application reads file structure and CDDB (freedb) audio database, and allows for customized printout positions.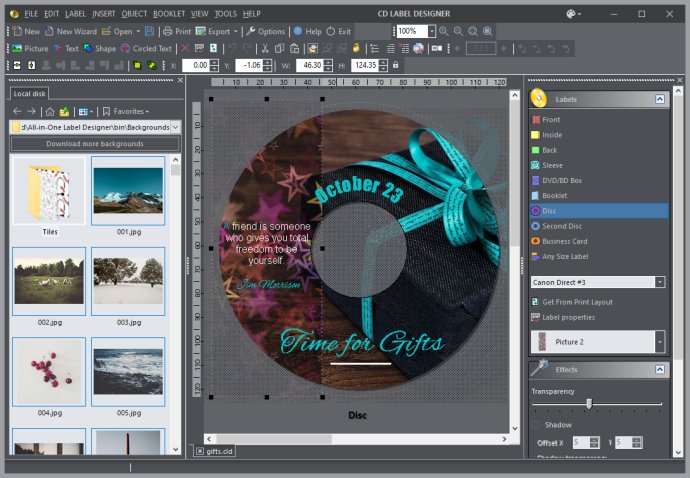 CD Label Designer is an exceptional application that is designed to help you create and print high-quality labels for CD jewel cases, DVD boxes, booklets, sleeves, round and business card disk labels. Whether you need a label for personal or professional use, this software is the ideal choice for you.

One of the great features of this software is the support for images, RTF texts, circled texts and shapes. This allows you to arrange, change size, angle and transparency of objects, making it incredibly easy to create the perfect label that meets your specific needs.

Another great feature of this software is the ability to read directory and file structure, CDDB audio CD database or define own lists to include them on labels. You can also customize printout positions and easily create different print layouts. This feature allows you to pre-define number of templates for different kinds of designs, and you can even exchange them with others.

CD Label Designer is incredibly user-friendly, making it easy for anyone to create professional-looking labels in just a few clicks. Whether you're a beginner or an experienced graphic designer, you'll appreciate the simplicity and versatility of this software.

Overall, CD Label Designer is a top-notch software application that you'll find incredibly useful in a variety of settings. Whether you're creating labels for your personal music collection or for your business, this software is the perfect choice. With its exceptional features and ease of use, you'll wonder how you ever got along without it!
What's New
Version 9.0.3: Improved Text Editor, full support for Right To Left (RTL) languages, signification drawing performance improvement, Unicode filenames supported, icon redesign, printers added...