CIB pdf brewer is a free and user-friendly software that enables creation of PDFs from any file format. Apart from merging and compressing PDFs, it also allows editing of Word documents converted to PDF, and creation of ZUGFeRD-PDFs. CIB pdf brewer is an effective and simple tool for PDF creation.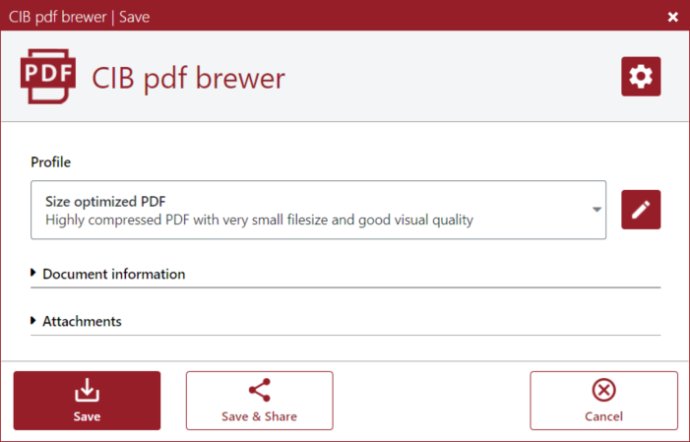 Looking for an easy-to-use and effective PDF creation and editing software? Look no further than CIB pdf brewer. This free tool allows you to create or process PDFs from any application with ease, and without any ads or unnecessary clutter.

With its many highlights, CIB pdf brewer stands out as an exceptional PDF creator and editor. One of its most impressive features is its ability to highly compress PDFs while maintaining near-identical quality. This can help to reduce archive costs or make sharing large documents easier.

The software also supports the most recent PDF 2.0 standard, complete with the latest encryption improvements that allow you to safely encrypt documents at the highest encryption standard. Additionally, CIB pdf brewer supports several e-invoice standards for generating digital invoices, including XRechnung, ZUGFeRD 2.0, and FatturaPA, among others.

Other features include the ability to easily merge PDFs and remove pages, as well as a modern, visually appealing user interface that makes PDF processing simple and intuitive. The PDF files are audit-proof and suitable for long-term archiving, with support for all archive PDF versions from PDF/A1 to PDF/A3.

Even after converting your Office documents into a PDF, the hybrid PDF format allows for re-editing without any loss of data. And with the ability to sign PDFs, add watermarks and text overlays, generate form fields, extract links, and generate PDF bookmarks, there are many more features to explore.

Finally, the software has been tested in cooperation with the Bayerischen Blinden- und Sehbehindertenbund e.V. (association for blind people in Bavaria), generating the document standard for people with visual impairment. So not only is CIB pdf brewer effective and efficient, but it's also inclusive and accessible to all.
What's New
Version 3.11.1: Many usability improvements and bugfixes.