The Cigati PDF Extractor tool allows users to extract text, images, fonts, and other files from PDF documents. It supports batch extraction and a demo version is available.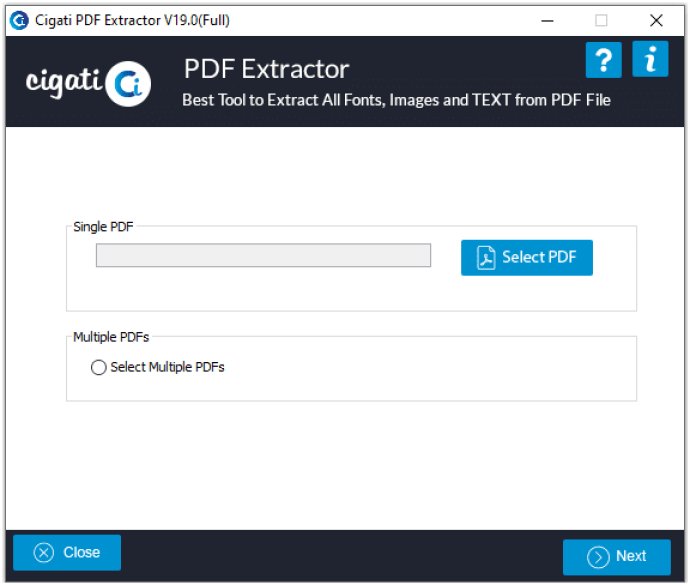 If you're looking for an efficient utility software that can extract text and fonts from PDF files without using Adobe Acrobat DC, look no further than the Cigati PDF Extractor Tool. This fully-featured utility is well-organized and user-friendly, making it easy for anyone to use without any specialized knowledge.

With this software, you can extract images in various formats, including PNG, JPEG, BMP, and GIF. Additionally, you can add multiple or single files to extract from PDF with watermark. Thanks to its intuitive GUI, handling this software is a breeze, and it completes work in less time and effortlessly, providing quality checked output.

Cigati PDF Extractor Tool is compatible with all versions of the Windows OS and saves extracted images, fonts, and text in the desired location on your system. Even better, you can try out the software for free with a trial version before committing to purchase.

While extracting text is a common feature found in PDF tools like this, extracting font can be a difficult and time-consuming process. However, the Cigati PDF Extractor Tool simplifies the process and reduces any problems, such as copying and pasting text in PDF files.

If you're interested in giving this software a try, there's no reason to hesitate. Cigati PDF Extractor Tool is available at a cost-effective price that fits within your budget. Once you've tried it out, we're confident you'll appreciate the software's high-quality features and ease of use.
What's New
Version 19.0: Support All Versions of Adobe