Cigati Thunderbird Backup Tool easily and safely backs up and converts all Thunderbird emails into various file formats and emails with its user-friendly interface, catering to both technical and non-technical users.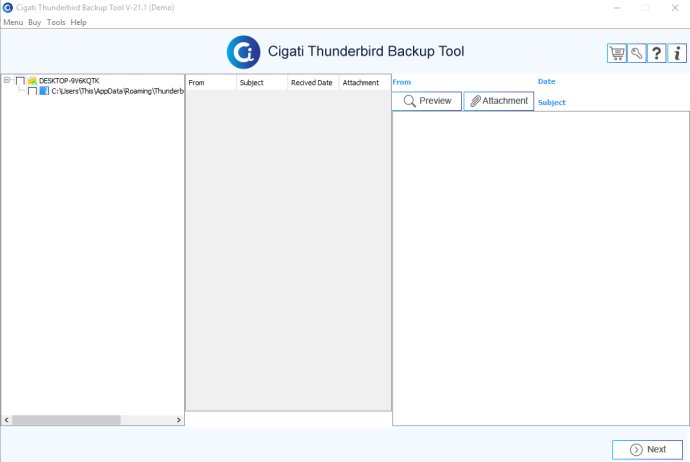 Cigati Thunderbird Backup Tool is a top-rated software that enables users to convert their Thunderbird emails into different file formats, such as PDF, MBOX, CSV, EMLX, and more. Moreover, it also converts Thunderbird mails into various email clients like Gmail, Yahoo Mail, IMAP, Live Exchange, iCloud, Amazon Webmail, and even Office 365.

With this software, users can also preview Thunderbird emails before the backup process, ensuring that everything is as desired. Additionally, users can save the resultant file or folder in the same parent folder, and it comes with features that remove duplicate Thunderbird emails while continuing the process of conversion.

The Thunderbird Backup Tool also comes equipped with a "custom folder name" feature, enabling users to save their converted files in the desired location or by the desired name folder. Furthermore, the software also boasts a Mail Filter feature that enables users to export or backup selected Thunderbird emails between the dates according to their preferences.

Users can transfer their Thunderbird mails into a new computer without losing any data, thanks to the Thunderbird Backup Tool. The software's simple and smooth GUI makes it easy for both technical and non-technical users. Moreover, since it is virus-free, users can enjoy quick email backups from their mailboxes.

This software is highly compatible with all kinds of Windows Operating Systems, from the latest to the older versions, and even exports Yandex mail into multiple file formats and clients such as PDF, PST, OST, CSV, DOCM, PNG, JPG, JSON, HTML, MHTML, and more.

Users using the Thunderbird Backup Tool can also convert or export their files with or without attachments, depending on their requirements. With the demo version, users can convert up to 50 free emails, making this software a wise investment. Overall, this software is a premium utility consisting of fabulous features that are easy to use and make the backup process hassle-free.
What's New
Version 21.1: Compatible with all the versions of the Windows